A Blind Date Led to a Lifetime of Love
Love, Relationships | November 26, 2013
By Elise Cook
At 15, Doreen had never had a boyfriend, but when her friend Diane was asked on a date, she begged Doreen to come along so she wouldn't have to go alone. Diane's date, Ray, also brought a friend, and that was how Doreen met Brian. When she saw him she was immediately struck by his tall, handsome build and wavy dark hair. Brian was about to turn 20 and hadn't intended on falling in love just yet, but he too was captivated. He remembers being taken aback by the beauty of petite Doreen, and being impressed by her maturity. The two instantly felt comfortable together, and from that point on became inseparable.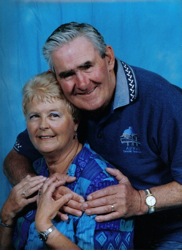 Four years later, as the church bells rang, Doreen and Brian stepped out of St. Botolph's Church as husband and wife. With family and friends from all over England together, it was the perfect day. However, their marriage would see them face many challenges and far from perfect days together, throughout all of which their love and care for each other would be their foundation.
After 6 years of marriage, Brian and Doreen were told they wouldn't be able to have a child naturally. Although devastating, this news led them to a baby boy who was to become their son. When the Church of England Children's Society placed 4 month old baby Alan into their arms, Doreen and Brian knew he was meant to be theirs. "He came home with us that day. It was an indescribable feeling," Doreen shares, "I think we cried with joy all the way home."
A few years later a little miracle occurred, Doreen fell pregnant. "We were ecstatic," Doreen recalls, "We felt so blessed." Only three years later, another surprise, Doreen fell pregnant again.
After having two baby boys, making their family of three sons, Doreen and Brian made the huge decision to move to Australia with their little family. However, when they arrived in Australia, they were confronted with the news that everything they brought with them was gone. "It was incredibly difficult. To find that all of our belongings had been lost due to flooding on the ship," says Doreen. "Arriving to 42 degree heat with three boys, a pushchair, and only winter clothes from our cabin." Things seemed dismal, until they were shown a small coastal town about an hour away from where the government was placing migrants from the UK. When Brian saw it he said, "Doreen, I think we've found paradise."
Throughout their 53 years of marriage, Doreen's health has seen her close to death more than once, but says that Brian's love and care for her has always been unfailing. "Our love is stronger each day. I can't imagine it ever ending, it is so deep and special," she says. Doreen puts a strong marriage down to trusting each other, a good sense of humor, being open and living within your means. Doreen says, "The most important thing is to be friends with each other, and to laugh together often."
Now that their sons have families of their own, Brian and Doreen have enjoyed travelling together. But, more than anything they love being surrounded by the family they built together, and their grandchildren. "They all inherited our good sense of humor, so laughter always flows when we're all together."
"My husband is my one and only," Doreen finishes, "there has never been anyone else. I knew from the very start and he felt the same. He is the love of my life, and I am the love of his."
To view more of Elise's work visit