Anzac Day memories
Video, War Stories | November 28, 2015
Andrejs Boboks chats to 64-year-old Arthur Forrester who has a rich history of war service in his family.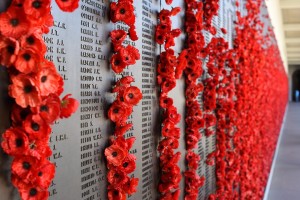 Every Anzac Day Arthur pays respect to those that have served during the war. He was in the Australian army for 21 years during the period 1970-1991.
Even though Arthur did not see operational service during his army time, he does remember how some of his friends returned from their service.
World War II and World War I saw members of Arthur's family serve in both wars.
Arthur's father served in Papua New Guinea and his grandfather was in the First World War.
In his early school years Arthur was a member of the Army School Cadets and he looked forward to Anzac Day. This was a time that he could walk in the parade with his father and soldiers who had fought during the war.
Later in life, Arthur learnt that his wife's family also served. And her grandfather was in the war. There has been a far transition of military service in his family.
It is important to Arthur to remember those who had given their lives for us to have the freedom in Australia. Also the New Zealanders that fought alongside at Anzac Cove in Gallipoli in 1915.
Additionally Arthur likes to be able to give remembrance and thanks to those that have given their lives during war and since.
For a period of time during Arthur's late army career he served as the community service officer for the ACT (Army Community Service Officer). This role gave Arthur an understanding of how the parents of those in service felt, what they were worried about and how they were proud of what their children were doing.
He says it is hard to put into words the feeling you get when you attend an Anzac Day service.
Arthur has been to many places around the world to attend Anzac Day services. Some of these locations include Hellfire Pass in Thailand where his wife's uncle had served during the Second World War.
Arthur says that when he attends services, he feels a little bit closer to those that have served, just by going and saying thanks at that sight.
Last year he went to New Zealand and visited an Anzac Day service near Wellington where he saw a slight difference in the service over there.
The New Zealanders hold the remembrance service for not only the fallen soldiers but also for the families who had lost there loved ones. The service celebrates those who served in the First World War, Second World War, Vietnam and now of course the soldiers serving through the Middle East and Afghanistan.
Arthur says his next-door neighbor of 15 years son, has joined the army and that he has been through the war and also some peace- keeping missions.
"I find that this has been very important to remember that it is children, young adults, that are leaving our shores to help keep Australia a safe and friendly nation," he says.
"I think in the spirit of Anzac that all Australians, as we are a multicultural country are protected by the spirit of those that fought through the years to keep Australia a safe nation. In the end I would like to say that I am slightly touched by my friends that had done war service and helped to protect my family and my friends here in Australia.
"