Food & Drink | February 1, 2023
By Cheuk Hei Ng
If someone asked me what my favorite cuisine from my country is, it would be one of the most traditional Chinese desserts, Tangyuan.
In the Chinese traditional culture, we usually have tangyuan during the mid-autumn festival and the night before Chinese New Year, or at the winter solstice, the "Dongzhi festival". It could also be served during weddings or family gatherings.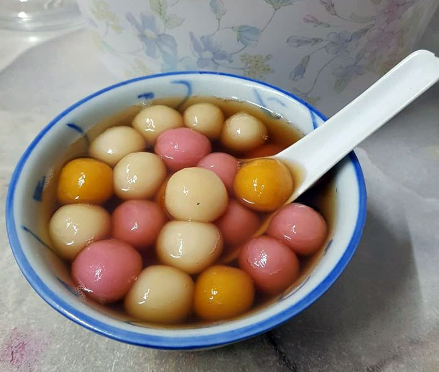 When I was younger, I was curious about this specific Chinese dessert, and I asked my mum why we must eat tangyuan every year during these festivals.
My mum told me as she smiles gently, saying that the name tangyuan means "union", which symbolizes the union and completeness of families.
The ingredients of tangyuan include rice dough wrapped with sweets inside such as red beans, peanuts or sesame paste, which the sugary soup of the dessert contains boiled ginger and sweet potatoes.
The combined taste of the sweetness of both the soup and the tangyuan enhances the feeling of warmth within family connections and bonding, which is perfect to serve at family reunions and gatherings during festivals.
Ever since I started living alone overseas for my studies in Australia, I really felt a sense of loneliness and emptiness as I am being separated from my family for a long period of time. Whenever I had the opportunity to visit my family during semester breaks and vacations, my mum would serve us tangyuan after my long flight and dinner. My family will always welcome me with a delighted and loving attitude after my long and tiring flight back to Hong Kong. Whenever I arrive home, they will greet and hug me tightly while embracing me in their arms. After a heart-filling dinner, my mum would always serve everyone a bowl of tangyuan as we chat and laugh throughout the night.
Although it may be just a simple dessert that I and my family enjoy every year, it holds a special meaning in my heart as I felt a genuine warmth and unity when I am with my family after being separated for a long period of time.
Tangyuan will always hold a special place within my heart, just like my family, forever and always.
---
Creative Folk | February 1, 2023
By Cheuk Hei Ng
Working as an intern under Celebrate Living History has been a very fruitful and enjoyable experience for me as a journalism student at Griffith University.
The experiences provided me with a platform and way to improve and enhance my writing skills and techniques and allowed me to gain a lot of insights after conducting interviews with various talents and knowing about their stories and life experiences personally.
I had listened to and documented memories and stories from the life of seniors, and I personally feel the connection involved between me as a person from a younger generation and with people from older generations.
The experiences had allowed me to broaden my horizon in terms of viewing the world and life experiences in a bigger picture and wiser perspective as by listening to the stories of older generations, I realised that my life had been considered "easier" in a personal perspective compared with people from the past although it is important to acknowledge different generations may encounter different forms of hardships and difficulties and it varies a lot in terms of social class, background in different individuals.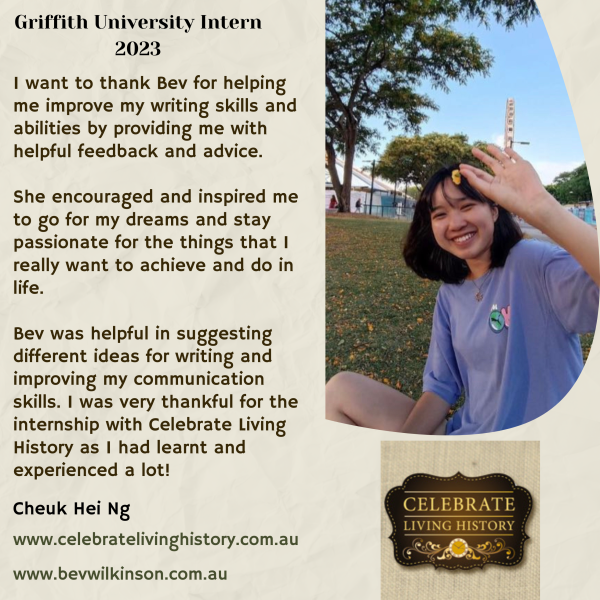 But from a personal point of view, I realised how lucky I was compared to the talents that I had interviewed.
I am also currently living in Australia as I am an international student, which at first it was hard for me to adapt to a whole new lifestyle and living in a foreign country.
But as two of my stories and interviews were based on two immigrants from Hong Kong, I can imagine how hard it would be for them to start a new life in Australia back in the 80s.
The technologies and media were less developed in the 80s compared to nowadays, therefore it is considered a major hardship for immigrants to communicate with families and friends back from their home country.
When I first came to Australia to study in high school, I felt extremely emotionally burdened and homesick due to having the need to adapt to the lifestyle, education, people, language barriers, and new environment.
I felt extremely stressed and depressed for a while, but luckily as time passes, I was able to fully immerse myself into the new community, having been able to make new friends and participate in activities, and learn about the Australian culture.
But speaking frankly, I may have encountered more hardships if I was born in the eighties or earlier. One of the interviews really stood out for me, which is Joyce's story that I had written. "It depends on your attitude when approaching hardships in life," says Joyce. This was a very valuable insight that I gained throughout my internship experiences.
By listening to her story, I learned that although life isn't always going to be happy and smooth as we idealized, we may encounter a lot of up and downs in life and we may feel frustrated and defeated, but it is essential for us to retain a positive attitude and outlook in order to overcome hardships and solve problems.
As Joyce told me she had to restart another career when she arrived in Australia instead of having her stable and successful career back in Hong Kong, I am deeply inspired by her boldness, toughness, and positive outlook in life.
My religion had also given me a lot of strengths in terms of overcoming challenges, and emotional burdens like homesickness and loneliness in Australia.
I am a Christian and it was unexpected for me to be invited to attend church in Australia when I was encountering a huge amount of stress and when I was emotionally vulnerable.
I was feeling lonely and defeated as I struggled to find a part-time job last year, but with the emotional support that the church community had provided me, I was able to be healed emotionally and improved my overall mental health and well-being.
Luckily, I was also able to find a part-time job in Australia after some struggles. Without the help of God and the church, I don't think I would be able to overcome those struggles emotionally and mentally.
I was thankful to everything and everyone that I encountered throughout the journey. I remembered in one of my interviews with pastor Daryl, he told me that God loves and adores me no matter what. Although I was a bit traumatized by past struggles and events, I was able to strengthen my faith in God and build meaningful bonds and connections with people throughout those struggles.
Throughout the whole internship experience, I really want to thank Bev for helping me in terms of improving my writing skills and abilities by providing me with really helpful feedback and advice, also encouraging and inspiring me to go for my dreams and stay passionate for the things that I really want to achieve and do in life.
Bev was very encouraging and helpful in terms of suggesting different ideas for writing and improving my communication skills. I was very thankful for the experience and internship in Celebrate Living History as I had learned and experienced a lot!
---
Culture | January 21, 2023
By Cheuk Hei Ng
Throughout his 20-year career working within the Christian community, Sir Daryl Evans has been serving as a pastor helping people find their faith in Jesus.
Daryl says it was a call from God that made him leave his career as a primary school teacher in 1982.
"I decided to start my career as a pastor and work for the Christian community, I wanted to teach people about Jesus and make a difference,"
"It was the year of 1983 since I had started to work as a pastor, so it had been a total of 20 years till now," says Daryl.
Throughout celebrations, weddings, dedicating newborn babies, or visiting patients in hospitals, Daryl is passionate in his work in terms of helping people find their faith in Jesus.
"The most amazing experiences throughout my career are seeing people making up their minds to believe in Jesus, accepting Jesus as their savior and follow him in life in order to learn from God," says Daryl.
Daryl had worked in six churches throughout his career, and he strongly believed that God had helped him a lot and gave him a sense of wisdom that is incorporated into his work.
In terms of the struggles that Daryl had encountered, he thinks that although it was a challenge to work with a variety of people from diverse backgrounds and sometimes encounter difficult individuals, he had learned to be patient, accepting, and tolerant in terms of loving and supporting people with kindness like Jesus.
"By believing in God and learning about God's words from the bible, young people would be able to retrain themselves and avoid making bad choices. By following God sincerely, you would be able to gain strength from God and your life would make more sense in general. I believe that living a life with Jesus is considered the best life for people," says Daryl.
Daryl strongly believed that people could really gain a sense of strength, direction and peace through their hardships in life by following Jesus.
"Life goes on. Allow Jesus into your life to lead you and you would really learn a lot. Please have faith in him. No matter what your choice is going to be as God gives people free will, God loves you no matter what," Daryl smiles as he says.
---
Culture | January 11, 2023
By Cheuk Hei, Ng
It was the year of 1979, Joyce made up her mind and left Hong Kong. She had chosen a new path, immigrating to Australia with her husband and children.
Having the idea to start a fresh life in a new country and wanting her children to receive education in Australia, Joyce decided to move to Brisbane with her family.
"At that time, there were only two main universities in Hong Kong, I wanted my children to adapt within a new learning environment and gain future success and opportunities in Australia," says Joyce.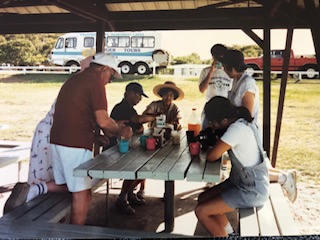 Despite the risk of encountering a great number of challenges and difficulties moving to a new country, Joyce strongly believed moving to Australia was a valuable opportunity and pathway for her family.
"We were very motivated and adaptable in terms of starting a new life and everything over again in Australia for a big change," says Joyce.
Being a strong-minded women and mother, Joyce says she always believed the key to success and wellbeing in terms of immigrating to a new country were based on adapting a positive attitude to change and a new way of seeing things in life.
"Due to my identity of being a new immigrant at that time, it was hard and nearly impossible to find a job that was similar to my career back in Hong Kong,
"I was working in an office in Hong Kong, but I needed to start a whole new type of career choice due to language barriers and other factors,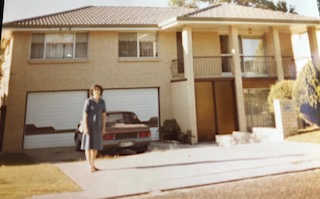 "But I was still very motivated and optimistic in terms of enjoying and striving for my new career working in restaurants, customer services and hospitality,
"I was very thankful and didn't feel resentful in terms of having the need to adapt to a whole new of career type. I was motivated and happy," says Joyce.
In terms of cultural differences, Joyce felt very different on how her life had changed in terms of lifestyle. She enjoyed the laidback, relaxed and slow-paced lifestyle in Australia compared to the fast-paced and busy city life in Hong Kong.
"I didn't feel any sort of homesickness or emotional struggles for my new life in Australia. I always thought if I have goals and motivation in my mind, my attitude will determine my future and happiness," Joyce says.
Joyce says that one of the goals she had in the past was to help her parents and siblings in Hong Kong immigrate to Australia.
"I didn't regret coming to Australia at all. Although there were not many choices in terms of meals and restaurants in Brisbane at that time, it had been fun to learn cooking Dim Sum or other Chinese dishes at home," Joyce says with a delighted laugh.
With the warm support and unity from the small Chinese community back then in Australia, Joyce and her family had felt very grateful for the help, love and support they had received from her Chinese friends.
"Although the Chinese community back then was considered very small and there were not a lot of Chinese immigrants in the eighties compared to nowadays, we felt very welcomed and happy by the unity and care provided by the community,
"Our children grew up happily together throughout the years and remained in close, supportive and loving relationships with each other. We are still very thankful for the love and warm support," says Joyce.
Joyce genuinely believes that the key to adapting into a new country and lifestyle depends on the attitude that people behold.
"Throughout life, there are going to be a lot of challenges and difficulties that a person may encounter, especially immigrating or living in a new country,
'But the sincere advice that I would give is that we should always look forward in life instead of looking back at past memories and old life. This is life. Let's live in the present and look forward to the future with a positive mindset,
"You will definitely feel motivated if you have life goals that you would like to achieve in life, just go for it," says Joyce.
Joyce believes her positive attitude to life and bold decisions had enhanced her wellbeing living in Australia.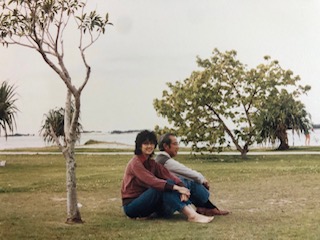 "Putting yourself out there to be openminded in terms of meeting new people and immersing into a new culture are considered very important,
"Don't be afraid to connect with people from a new country or community. Experience their lifestyle, their way of thinking and culture, and especially their humor! There is nothing to be worried about," says Joyce with a bright smile.
---
Creative Folk | December 7, 2022
We meet Cheuk Hei Ng our latest intern from Griffith University.
What attracts you about being an intern for Celebrate Living History?
The reason that attracts me about being an intern for Celebrate Living History is that I really want to know more about the stories and insights gained from the seniors throughout their life experiences.
One of the aim and mission of Celebrate Living History is to connect younger generations with older generations through the work of journalism, which through conducting interviews and documenting the stories from seniors.
I would not only be able to gain working experiences in terms of journalism and writing skills, but also gaining some life experiences and wisdom from investigating and listening to older people's life stories, discovering their perspective on life and advice to younger people in terms of how to live their life filled with purpose and meaning. I feel like I really could learn a lot from this internship.
Who is an older person that you admire and why?
The older person that I admire is my grandfather. Although he had passed away early this year, I would never forget him as part of our family.
My grandfather was a wise old man who had lived his life filled with a lot of different experiences and memories. He had witnessed the Second World war, and he had talked about his experiences and insights on life gained from his life experiences, no matter the experience was considered good or bad, he had learnt a lot.
I admire him because my grandfather never stops learning in life and from history. Although he may not be the most outspoken man throughout his life, but he was a man full of wisdom. He was also a loyal husband to my grandmother.
Although my grandmother had passed away long time ago, he still puts the photo of her in front of his desk as a beloved memory. He loved my grandmother so much when she was still alive and even after she had passed away. I really admire my grandfather and he will always be remained in my beloved memory.
If you could jump into a time machine, what era would you visit and why?
If I could jump into a time machine, I really want to visit Ancient Greek as I know that it was time when a lot of science, philosophy and academics were created. I really want to talk to philosophers from Ancient Greek, like Zeno of Citium in Athens in the early 3rd century BCE as I was really interested the philosophy of "stoicism". 
Stoicism refers to the philosophy of maximizing positive emotions in someone's life instead of negative emotions. I really wanted to learn more about this idea as I think it would really help me live a happy and fulfilling life in terms of having a different perspective on life through the glance of philosophy.
---
Culture | November 30, 2022
By Cheuk Hei, Ng
It was the month of January of 1986 when Susanna first came to Brisbane, Australia for a new fresh start of her life, leaving everything behind, including her friends and job in Hong Kong.
"The main reason that I came to Australia is because of my family. The main purpose of coming here was for family reunion, as my mother, sisters and brothers were living here," says Susanna.
It had been 36 years since Susanna immigrated to live in Australia. It was a brand-new adventure for Susanna, as she had been hesitant to come to Australia.
"I was not sure if I want to live here in Australia at first as I was hesitating. But I was young at that time and I wanted to try living here and my family were living here in the first place," she says.
Susanna's visa application was a success, she says that it is definitely god's plan for her at that time.
But as soon as she arrived in Brisbane, her impression of the city had been a surprise for her.
With a big smile on her face Susana says it was like going for a trip in the country side.
Brisbane city was still considered a developing city in the eighties. Compared to Susanna's country of origin in Hong Kong, which was considered one of the busiest and well-developed cities for international trading at the time, she was having trouble getting used to living in Brisbane city.
Susanna was enrolled in an immigration course for culture and language learning of Australia after she had arrived in Brisbane, while her husband was enrolled in university, majoring in accounting.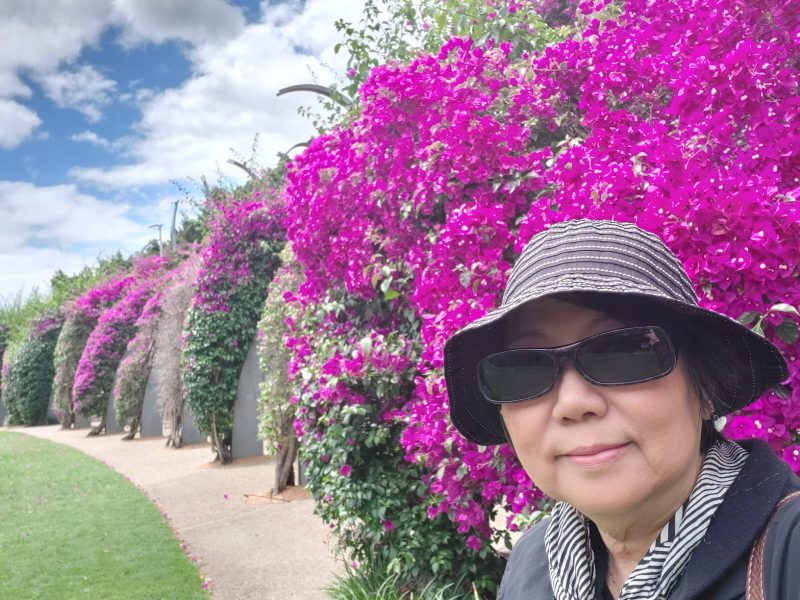 "It had been a source of struggle as I had encountered cultural and language differences when I first came here to Australia, my kids were also having trouble adapting to English learning environments in schools," says Susanna.
Susanna used to hire domestic helper for housekeeping in Hong Kong, which she found it harder when it was not considered an option living in Australia.
"I need to do everything myself as we couldn't hire any domestic helper here in Australia, I needed to be independent and it was a difficulty for my situation at that time," she says.
Luckily, she was able to find a job in Australia after three months, working as a team member in the Hong Kong Bank located in Brisbane. She used to work as a member of the bank back in Hong Kong and it had been easier for her to be transferred to a position in Brisbane.
However, she says that the IT technology of the bank was not considered as advanced as those in Hong Kong, therefore she found it a bit challenging to adapt into her new job. Despite the struggles and hardships Susanna had encountered, she and her family managed to adapt to a new way of living in Australia after a few months period.
"Although it was a bit hard when I was trying to adapt to everything in a new country, I somehow found happiness and a sense of accomplishment from my career and the loving support that the church had provided me and my family with. I am very grateful for that," says Susanna.
Her career had been one of her greatest accomplishments through her life in Australia, which she had received numerous promotions throughout her years of working in the bank.
"I was working as the supervisor of the Hong Kong Bank at first, but the bank was closed down after some time, which I felt a bit depressed and resentful due to the loss of my position. But then when I started working in my new position in Westpac, everyone in the team were very nice and helpful and I had received a few job promotions throughout my career,"she says.
One of the main reasons for her success and job promotion was due to her bilingual language skills, having been able to speak both English and Chinese at the same time in terms of working with Chinese customers.
There was a boost in the number of immigrants in the 90s, which there were an increase in immigrants from China, Taiwan and Hong Kong to Australia. This had been beneficial to Susanna's career as she was skilled at communications in both Chinese and English, which had earned her with a great amount of trust from her boss, managers and colleagues in regards to her helpful abilities.
"I was first being promoted to the position of manager assistant, and was then promoted to the manager of Asian business, and lastly being promoted to the position of relationship manager. I was feeling very accomplished and happy due to my job promotions," says Susanna.
"It was all God's plan. I am very grateful for the support provided by the church," says Susanna.
Susanna is now a committee member of a senior group of Sunny Bank's Baptist Church. Throughout her years of immigrating to Australia with her family, facing hardships and distress from adapting to a new country and way of living, the church had become a significant source of support for Susanna and her family.
"I participated in teaching Chinese at church and I found a source of happiness and support offered by the church and everyone from the church's community, I feel very grateful for what God had done for me and my family." says Susanna. Susanna is feeling very happy with her choice and does not have a single regret coming to live in Australia.
Despite the challenges Susanna had faced and struggled, she somehow found great happiness, achievements in her career and found a loving church community that had supported her throughout the years. "This is my home, Australia," she says.
---
Creative Folk | August 16, 2022
Our founder Bev is running her first life writing class tomorrow at Orwil Street Community House. Pop in and learn how to write your own story! Do you have a story that you are aching to write? But you simply don't know where to start? This workshop will teach how to structure, create and put your big idea on paper. Starting on Wed 17 August. Bookings essential at
https://www.orwilst.org.au/book-online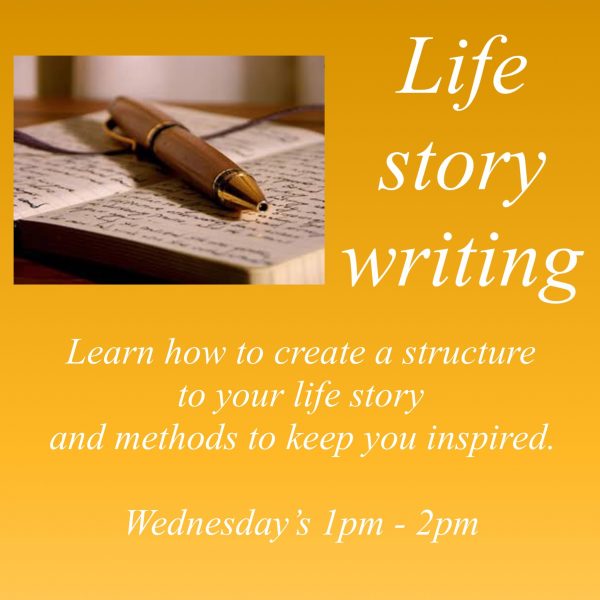 ---
Nostalgia | May 27, 2022
By Leon Panapa
In 2002 I cut my left lower leg on tropical coral whilst walking through a reef. The cut stung and it bled into the ocean. It hurt but I managed to persevere and manage the scrapes and cuts. It happened on the island of Tokelau, the birthplace of my grandmother.
The blood of the island Tokelau runs through my nana Ane, through my father Sam and into me. She told me she had cut herself on the coral that makes up the beautiful reef surrounding Tokelau many times as a child growing up on one of the remotest islands in the Pacific.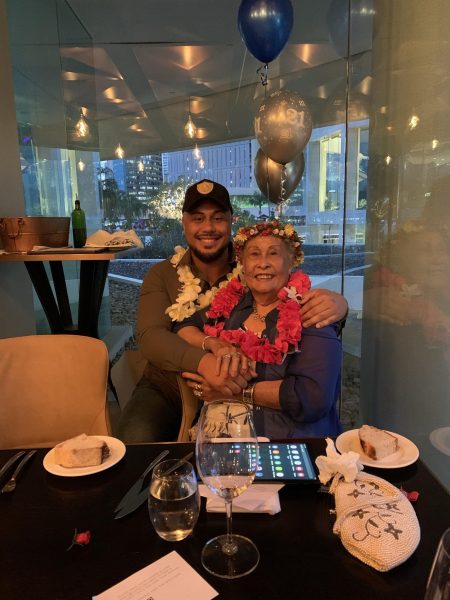 My grandmother Ane Munro nee Fakaofo was born on Fakaofo atoll, Tokelau. An island 150km off Samoa in the middle of the pacific the only thing smaller than the population there is the minute landmass that is engulfed by the ocean. Nana's journey to where she is now is one of navigation, which becomes more curious as we grow older and show similar traits in our travels. The fruit never falls far from the tree or in this case the coconut never falls far from the palm. Allow me to elaborate.
You see, my grandmother at eight years old was thrown aboard a boat from Tokelau to Samoa, where her new life would begin. Crying and wailing for her parents on the boat, nana was being sent to Samoa not only for a new life off the island but for my great grandmother's sister's sake who lived in Samoa and was married to a German man. It was there nana grew up working as a cleaner and a maid in the richest hotels on the island of Samoa.
At the age of 30, she was pregnant with my father and had heard of the opportunity in New Zealand. At the time NZ was immigrating swarms of pacific islanders to boost the labour force at the time known as the great Polynesian migration. Nana was no stranger to being thrown into the deep end so she boarded a flight to NZ with my father in her belly in search of new lands, new opportunities, and to blossom what her parents originally wanted for her when they boarded her onto the boat to Samoa.
Nana had little family in New Zealand but nothing hit harder than the cold winter months of July and August to someone who had lived in the tropical heat. My father was born and well my nana started life in New Zealand where she had her own alteration business on Karangahape Road in Ponsonby Auckland.
The move my grandmother made from moving to NZ paid off dividends. My father was athletic and took to the game of rugby league. It started off innocent as it could, only for fun and to make friends. Whoever would have thought he would go on to play professional rugby league for NZ and Tokelau landing him a career in the United Kingdom with wonder club, Wigan in Lancashire. I was still a young child when we left Nana in NZ to live in England but soon enough, she came to stay in the far north, tides away from Tokelau.
Nana has lived with my parents ever since. After my Dads career in the UK, we returned to NZ. This is where I enter the story, I was nine years old returning to NZ from the UK, and whilst mum and dad were working, nana looked after us kids a lot.
The strange thing is like nana, I too left my family nest in search of greater opportunity. At the young age of 17, I left Auckland, New Zealand and came to Brisbane, Australia. A hot and humid land where I pursued this brutal sport called Rugby League. My parents had bought the air ticket and I had little family here in Australia but the heat hit the hardest. Sound familiar?
It's at this point where I think sometimes – Your ancestors live through you, and I keep thinking back to that cut I suffered from the coral in Tokelau when my family took nana back to visit. I was 13 at the time and there were times when strange things happened to not only me but to my father as well. My father was stung by a poisonous fish but it was not a lethal dose of venom, just enough to swell the hand. The sting was suffered whilst we were fishing in the lagoon, I was young and remembered the event well. Dad recovered ok though.
But it was the day after that when my incident happened. There is a hunting tradition in Tokelau where only the men go out into the lagoon and make a large circle. About 150m in diameter and about 50 men create a circle and each man has a stick. The men in the circle hit the water with the stick and slowly walk the circle slowly into the middle. They are herding fish into a centre where nets are to catch the fish. In Tokelau because the fish are so plentiful, catching them is not the trick, it's collecting that is the hard part. As a young 13-year-old, I had gone along with older men and joined the circle. It was a treacherous event as the coral reef in low tide was full of obstacles. Walking in the hip-high sea level, navigating feet through sharp coral is not easy. Stonefish, lethal eels and poisonous coral all lay ahead not to mention the sharks that circled as well. It was at this time I felt the blood of the Island run through me. I slipped during the walk and fell into a pothole that had sharp coral attached. My blood inked the shallow water to which one of the local men, gave me a sudden look of concern. They helped me but told me I had to keep moving as if I kept still the blood would draw stonefish and sharks so we had to make haste. My leg burned and all I could think about was my nana. The Island is testing me, seeing if I have the strength like my nana to keep moving. I had to keep up with the men and achieve the feat of catching herds of fish. Eventually, I made it through the coral reef and contributed to the catch.
I healed well and the gathering of fish was a spectacle. I had never seen so much live healthy fresh fish before and the men who hauled the huge nets onto the harbour were strong and had huge shoulders. In my later years I would have dreams of these acts. Huge nets of fish sparkled and the fish were fluorescent in colour.
Nana was waiting for us when we returned and told me that was the island's way of telling me that we must keep moving in order to survive. If we wanted to settle, we can always come back to the island.
Nana thinks about the island often now and now in her final days she lives with my father and mother in New Beith, Queensland she has lived life to the fullest. I and my sibling all draw strength from my nana, and although she has her secrets, we respect them.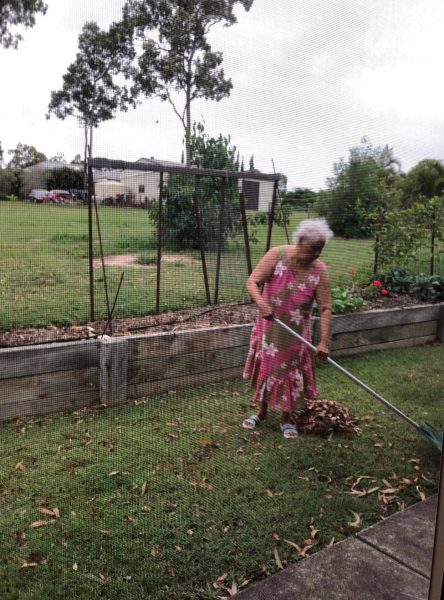 Nana says one of her greatest and proudest achievements was being able to travel the world. From the smallest and remotest places on the planet, she traveled to the United Kingdom, Europe, Australia, Hong Kong, the USA, and other pacific islands.
As Polynesians who live here in the great land of Oz, navigation seems to be in our genes, to keep moving. Nana has always said do it for your future. Our future is in our own hands but history leaves clues. Nana and I have so many parallels and I wonder is it because I had knowledge of her travels it motivated my own. And furthermore, will it influence my children? I will tell my nanas story to the next generation as the island of Tokelau taught me, keep moving through the coral, you will get cut but keep your eye on the catch it will navigate you through the hard times, there will be others there to help and guide you at times but ultimately keep moving until you get the catch of fish. That's what I will be telling the next generation.
Malo ni nana Malo koutou Tokelau e!
---
Creative Folk, Student Profile | April 19, 2022
We meet Leon Panapa our latest intern from Griffith University
Read more »
---
Nostalgia | February 2, 2022
By Ronan Hughes

Born on February 19, 1947, birth name Fay Janet Doolan, she was the first Ash Wednesday born in the hospital for that year. Her birth parents were Muriel Ileen Anderson, changed to Muriel Ileen Hammond after she was adopted and Patrick Eric Doolan, whom, thanks to later DNA tests, would be revealed to not actually be of the Doolan family.
When she was born, she was the youngest of three children, having an older brother and sister, and by the age of 6 she was the middle child, having a younger brother and sister as well. Her mother was a loving and kind woman, a doting mother, but her father was a different story, a somewhat violent man who treated both his wife and children with contempt and would often mistreat them. In 1953, they moved from their home in Brisbane to Hemmant, which was the same year that their father left their mother, who they wouldn't hear about or from for 30 years, only learning about him in 1983 when they were called to be informed that he had passed away in palliative care at a nursing in barely a few hours from where they had spent most of their lives.

Shortly after moving, her mother remarried, to a man who was even worse than their birth father. He would beat his wife and children, and on occasions fabricated scenarios in attempt to have the younger children put into homes and foster care. One such scenario that she remembered clearly was when he came home drunk and attempted to beat their mother. Her, along with her older siblings, attempted to stop him by force, and in retaliation he called the police, claiming that they had attacked him and that Fay, young enough to be put into care, had tried to attack him with a pair of scissors. During this time, her mother had a further five children with her stepfather, resulting in a total of nine siblings, most of those younger. Thanks to the long hours both parents worked, and the longer hours her stepfather would spend away from home for various reasons, much of the daily child-minding fell to the five older Doolan siblings including her, each taking care of one of the younger siblings. 
During this time, she was also attending school along with her siblings, and would later come to find out that her family had Aboriginal heritage. Her mother, Muriel, was born on country in in an Aboriginal campsite in Charleville in 1918, but when her mother and grandmother moved to Brisbane she and her sister were put into a home, where they were brought up to be domestic servants, where it was believed they would receive a better life than what their mother could offer them. It was due to their and her treatment during this time that she refused to reveal their heritage to Fay and her siblings, believing it would keep them from being abused and bullied at school, not to mention that she was afraid aboriginal heritage would make her children a target of protective services and more likely to be rehomed if anything happened, as this was something that, at the time, happened all too often and there are countless cases of it. In spite of all this, she persevered and raised all 10 of her children virtually alone with almost no help from the government or her spouse, and aimed to give them all the best lives possible.

In school, Fay reached grade eight before deciding to quit, instead starting to work to help support her growing family. She originally wanted to become a schoolteacher, as she enjoyed schooling and learning but this was to be unrealized. Her first job was with Dixie Chickens at age 14, where she dealt with sexing and killing young chickens. Amazingly, her work ethic, skill and quick learning saw that she quickly rose in the ranks of the business as well as standing out in the eyes of her employers, well enough that by age 16 she was asked if she wanted to go over to New Zealand to work in one of their large hatcheries. However, she felt obligated to stay close to her family and more importantly her own mother, so she declined, to stay close to them and to ensure she'd be able to help them out in the way that they needed. She continued in that profession until the age of 17 and a half, when she moved on to KR Darling Downs.
Here, she met her future husband, Gary Coleman, from whom she'd take the surname Coleman. While they became quick friends, however played the gentleman and refrained from going out or dating until Fay was 19 years old, but from there they feel quickly in love and were summarily married two years later in 1968. A year later she had her first child, a daughter, Lisa, and had two more children by the 1973. By the birth of their fourth child, they'd managed to purchase a house in Hemmant, which had originally been planned to be purchased for Fay's older sister. But after examining the property, her sister decided it wasn't up to her standards. Fay however jumped at the chance to own a home for her family and purchased it herself for the princely sum of $8,000, with a loan rate of 17 percent, with a total weekly wage of merely $60.
With so many children to look after, she'd often spend most of her time as a stay-at-home mother, and often found herself having to take care of multiple snakes. Lisa would often throughout tomato seeds to start growing plants, and this would often result in the snakes moving in thanks to the new foliage. Most of these would often end up being shot trying to get in through the front door.
A few years later in 1984, she began working in the RSL for a few months until the catering business that employed her shut down, but for those few short months it would often result in Lisa having to look after the other siblings due to both Fay and her husband working on Saturday's. Eight months later, she found part-time employment at the local Snackbar, where she worked part-time for a further 10 years, but eventually sold the snackbar, which resulted in Fay leaving due to new management. From there, she moved to the Hemmant Hotel, where she worked for 5 years in the kitchens until an accident at work, which resulted in her almost snapping one of her legs. Thankfully, the hotel was kind enough to offer her a position looking after and watering the plants around the hotel, until her retirement at the age of 50. Five years later, her husband passed away, and moved once more in 2002, now to a home in Hemmant, to be closer to her family and grandchildren. By 2009 she had moved once more to Macleay Island, which was the first time in her life that she'd lived in a newly built home instead of purchasing one that had already been on the market. However, she only lived on the island for a mere three years until a want to be closer to her family pushed her to move back onto the mainland, living with Lisa for several months while her new home was built, and in March 2013 she moved into her current home in a lifestyle village in Brisbane.

During that time, her family continued to grow, and by the time she finally moved back to the mainland for the last time, her family had grown to 19 biological grandchildren and four great-grandchildren, who often visit and spend time with her, thanks to living relatively close to her once more, one of the real reasons she decided to move back to Brisbane, and one of the best decisions she had ever decided to make, but she still hopes to travel and see more of the country one day, to make up for time she lost.
---