ARTIST IN RESIDENCE
Creative Folk | June 8, 2021
By Erin Norton
Having studied a Bachelor of Arts at university, Jenny has always had an affinity for painting using acrylics. She longed to take her passion into schools and teach but found it difficult to land a job at her local schools. 8 years after she relocated to the Coast, it was finally time for her dreams to become a reality and set to work converting her garage into an art studio. Jenny gathered together paints and canvases, pots and paintbrushes and enlisted the help of Vince to make the easels using his woodworking skills.
They put out the word and it soon became popular with the local Hinterland ladies looking for a bit of fun and to develop their artistic capabilities. This was what Jenny always wanted- to nurture people's talents and teach them techniques and theories that she'd learnt at her time at university. It quickly became more than a class and she formed strong connections and friendships with her students, most of whom were around the same age as her. They became like sisters to her, creating a loving and incredibly supportive community doing activities together outside the studio like annual camping trips, breakfasts, and brunches.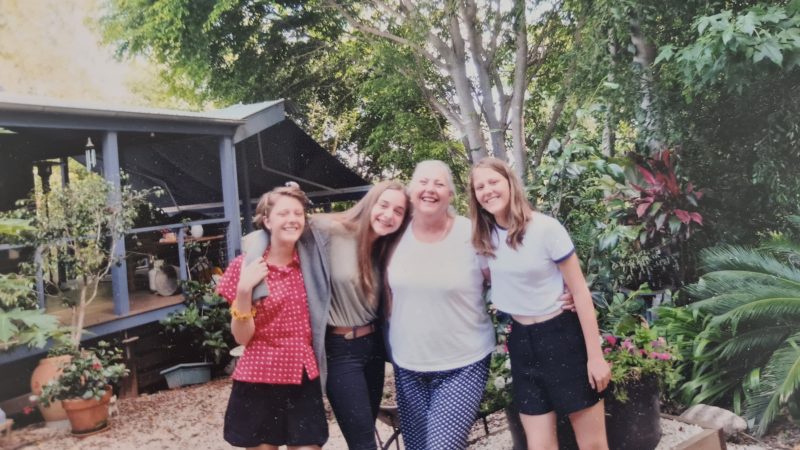 After years of waiting tables in cafes and restaurants in Brisbane and raising a family, Jenny was in desperate need of a change. So, in 1999, she packed up and moved with her husband Vince to the Sunshine Coast Hinterland. It was peaceful and had more than enough room for their horses which Vince rode and looked after with pride. Jenny spent her spare time working on her art in their garage.
After a couple of years of running the adult classes, Jenny, now a grandmother, decided to start a kid's art class. This class would accommodate children from ages 6 and up. I joined in 2007 along with my twin sister and we absolutely loved it, riding our bikes down to the studio every Saturday morning. It soon became like a second home to us, and my sister nicknamed Jenny "our Australian Grandma". According to Jenny, we were very naughty during art classes. Apparently during one of our many dinners, my sister and I ate all the Nutella and bounced off the walls. My friend still teases me about it to this day even though I have no memory of it. Despite our unruliness, we managed to produce paintings (mostly animals). Painting has become a way to relax and unwind, especially recently as the pressures of university have ramped up. Throughout the years, Jenny and my gang of art friends have encouraged me to experiment with different mediums of painting such as watercolour, oil paints and the using gesso paste to create texture and depth to my work.
Even though my sister and I no longer attend classes regularly, we stay in touch and try to organise as many dinners and get togethers as possible. We are always welcome in the studio and Jenny refers to us as "her girls". She has been with us for many milestones of our lives and will be there for many more in the future.
After approximately 22 years, Jenny still loves her art classes, teaching the next generation of little painters as well as volunteering at the Supporting Teenagers with Education, Mothering and Mentors (STEMM) program at Burnside School.
She said the reason that she teaches definitely isn't for the money but for the everlasting love and commitment that her students show her. She is amazed by the progress that we make in our skills.
-CONCLUSION