Chatting with Bruce Petrie
Life Stories, Video | January 4, 2018
Bruce Petrie is from a long line of Frankston relatives who have thrived in the area for over 100 years.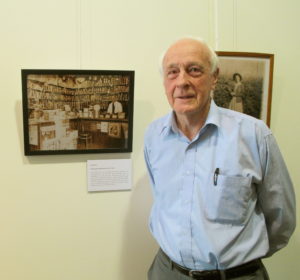 Born in Frankston on 11 January 1932 Bruce grew to have the entrepreneur spark like his father.
His family owned so much land that most of the streets in Frankston was named after the Petrie family.
"I've lived here for 80 years and have spent all my life here, the original grant was Dandenong Road, my father was born in Hastings his father ran the general store opposite the pier, then they shifted up to Frankston," he says
"My father had the grocery job on the corner of Station Street and Young Street he owned all Balmoral, across to Rossmith Avenue."
Bruce remembers fondly when the circus visited Frankston just outside his home in Balmoral Street.
"We had a circus come in one year they came in by steam train all the trucks had cages with the lions they would take them by tractor to the circus side," he says.
"We just had to look out the front door and see the circus."
During the summer Bruce enjoyed jumping on the boat and fishing in the creek.
"It is all ruined now by the dredging and the McCombs netted it back in the 50s, every year they had to go further out the fish have never returned like they used to be then, there used to be massive Snapper," he says.
Growing up in the war the Petrie family managed well with their own vegetables, cow and chooks on the property.
"In Frankston it was pretty good during the war, there was petrol rationing we used to get a couple of galloons to go fishing," he says
"During the war the Americans came back from the islands and went to Balcombe Army Camp my mother and father made friends with a couple of the yanks they used to come to my place and invite me to Balcombe Camp during the war," he says
"We would have steak, rock melons and ice creams. We could not get any of that during the war, they gave me a few souvenirs, which you weren't allowed rifles and things."
Bruce grins when he chats about the reasons why he was a fireman for 37 years.
"It's been in my blood my father was captain of the Frankston fire brigade in about 1905 he was a honors member. It was quite a nice family group everybody was in the fire brigade in those days," he says
"We knew all the children of everybody who was there,"
"When I was 18 I wanted to join the fire brigade in the city and I stayed there for 37 years,"
Bruce says his favorite time, as a fireman was when he visited the Children's Hospital in Mt Eliza during Christmas.
"Just the friendship of the Frankston Fire Brigade I was a member up and until 56 when the Country Fire Authority wanted to put permanent members at Frankston, " he says.
Bruce says being a firefighter was hard especially when they had to enter burning buildings and tip fires.
"They would push you in all the time they didn't give you any breathing apparatus, used to go to a lot of tip fires in Cheltenham, the old aged home in Keys Road and Warrigal Road so you would breath all this plastic from Nylex," he says
"Just never knew what you were going to get into. "
If Bruce could give advice to his younger self it would be to invest more in stocks rather than property.
"We always had trouble with tenants, if you need money on the stock exchange you can sell your shares tomorrow," he says.
"I've got six acres in Langwarrin and its zoned to be a tip, I've had it for forty odd years paid just over 30 thousand and I can't sell the land its worth over 1- million."