Chatting with Dorothy Dempster
Life Stories, Video | January 6, 2018
Dorothy Dempster lights up the room with a smile as she talks about summer holidays and raising a family in a town she loves.
With a reputation for being a holiday destination Frankston soon became a favorite for Dorothy's family to visit.
Dorothy says her uncle Alex Eadie who arrived in Frankston in 1929 would organise houses to rent for her family.
"He had a menswear business on Bay Street Frankston which is down on the Nepean Hwy, it was a work mans clothing business nothing flash but all good quality stuff." she says.
Dorothy says her uncle was a very philanthropic man and if any families approached him for help with school uniforms he was always happy to assist.
"He would give them new uniforms and they would pay when ever they could, I've met many people since who have big families and they could remember my uncle and there was never any word of payment," she says.
Dorothy remembers the early days when the fire brigade was made entirely of volunteers.
"There was no way of communicating with other people other than the siren, on a summers night very often we heard the siren wailing away," she says
"I know my siblings and I have very clear memories of footsteps pelting down the street because the men didn't have cars, they would be racing up to get to the fire brigade which was up where the Civic Centre is."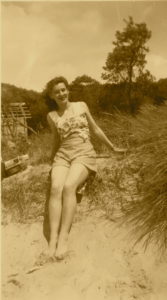 Later on Dorothy would raise her own family in Frankston.
"It was lovely place to live at the court we lived in there was 50 kids," she says "The blocks were big and we had plenty of room in the backyard, school holidays were great fun,"
"Very happy days in Frankston and I've chosen to stay in my great years love it as a place to live."
If Dorothy could give advice to the younger generation it would be to accept responsibility for your own actions and take care of other people.