Chatting with Syliva Meehl
Life Stories, Video | January 5, 2018
Sylvia Meehl grew up in a family of five during the war and bought her very first bike on a shilling a week.
Now 88- years -old she has fond memories of growing up in Mentone and summer holidays.
"We used to make our own fun, being one of five we got a lot of hand me downs," she says
"We used to go the beach a lot, we were teenagers by then and we used to dive off the pier we weren't allowed to."
Unfortunately times were tough and she never made it to High School.
" I started primary school at Hughsdale for a couple of years before we moved to Mentone," she says
"With three of us going to school mum could not afford lunch, those who could afford lunch would send a spare to the office, when the bell rang and you got to the office in time, the lunch would be divided between the three of us,"
"We used to receive a bottle of milk and it was always left in the sun, we always drank it anyway because it was milk."
Sometimes it was hard growing up in the war especially when the family had to use coupons.
"I remember my dad had petrol coupons he at the time was running a taxi. He had a charcoal burner at the back of the car," she says.
"It was quite hard but we were used to that with five of us. We used to make our own fun on the weekend we would walk from Mentone to Black Rock."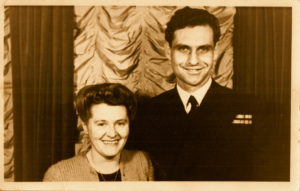 Sylvia smiles when she remembers meeting her husband for the first time.
"I met my husband, during the war I was working at Spenser Street at a lingerie factory making Awa underwear," she says
"He worked in the SEC behind, we used to walk around and talk to the chap at the back gate during lunchtime,
"The chap said I got somebody here for you to meet and he brought my husband out and said have you asked her out yet?
"In the end he asked me out and we used to go out every night to the Australia Hotel and have dinner, we would do a show after that."
Just before the war ended Sylvia's husband decided to join the fuel company delivering oil during the war in the merchant navy. Sylvia said when he came home for three months that's when they decided to get married.
"I wasn't with him for very long because he died in 1954 from paralysis," she says "It was a Friday so I rang the ambulance they took him in and put him in an iron lung, We just finished lunch and received a phone call and he said your needed at the hospital, there was five doctors who were not quick enough."
Sylvia decided to move to Frankston in 1955 when she bought her first block of land. Since then she has stayed and thrived within the area and is a current member of Frankston Ladies Probus where she shares many a yarn over tea.