Grandma my inspiration
Culture, Inspirational People | October 23, 2013
By Melissa Haber
My grandmother Judy Roulston has always been an inspiration to me. When I was a kid I looked up to her, admiring her creativity and artistic skills when we did craft activities together and the way she would never fail to come up with stories to tell me when I relentlessly asked her to tell me more. Now that I am older, I realise that Judy is not only a patient, creative and kind person, but also a determined woman who has worked hard her whole life, through times of war, peace, happiness and sadness.
Born at the dawn of World War Two, Judy grew up in the picturesque English countryside town of Somerset. One of six children, Judy spent much of her childhood and teenage years working on the farm across the road from the family home.
Judy was too young to remember much of the war, but every now and then something will remind her of living in wartimes. "I do remember my older brother and sister sitting me by the side of the road whenever the American soldiers walked past and ask them for gum, they laughed and threw chewing gum at all the kids, but I was too young to have any myself" Judy laughs.
Because they lived in the English countryside, Judy's family was spared the worst of Germany's devastating attacks on London and the tough rationing system many English people had to abide by. During the war, Judy's mother Florence worked hard to make sure all of her children had enough to eat. The family homes countryside setting ensured the family was able to grow all of their own fruits and vegetables and they were supplied with meat from the farm across the road, where Judy began to work full time from the age of 15.
"I used to milk the cows, deliver the milk, feed the chickens and collect and wash the eggs, I wanted to be a vet, and I love animals"
Judy's father was a Romani Gypsy but left the traveller lifestyle and decided to move his family to Australia after the war. "Dad decided that us kids would have a better life in Australia and when I was 16 we got on a big ship and when we finally made it here I loved it"
"I loved Australia from the moment I stepped off the ship in early 1957" and Judy immediately got along with the Australian people and quickly embraced the Australian way of life. Despite coming from the coldness of Somerset, the Australian heat did not bother her as much as she had expected. "I was surprised by how quickly I got used to the weather, it wasn't a problem" says Judy.
Once the family was settled, Judy began working for the Savoy Food Products peanut factory in Footscray. Her hard working nature she learned from being employed at the farm quickly saw her promoted. "It was great, I had to make sure all the girls were doing their job properly and that they were all ok, I think I enjoyed bossing them about" joked Judy.
Judy's outgoing nature saw her make many friends, many of whom she keeps in regular contact with today. Every ten weeks for the past 30 or so years she gets together with a group of five other couples and have a good chat over lunch and some coffee. They call themselves the Take Five and have had fun together over the years, watching each other's families grow and bloom, and even winning Tattslotto at one point.
Australia not only bought Judy and her family job opportunities, but also romance. David Roulston and his family made the journey from Scotland to Australia also in search of a better life.
"David was so shy!" Judy said with a smile. "He didn't know how to start talking to me so you know what he did? I took my little sister to the milk bar to buy her some lollies, and when I went outside my bike was gone. He had stolen it and was waiting down the street for me to come and get it so he could start a conversation with me" Judy laughed.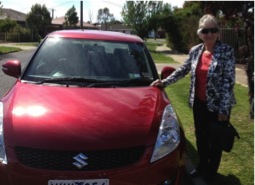 That's certainly a unique way to start a conversation with a girl, but David's undeniable charm saw he and Judy get married a few years later and buy their first home together in Altona in 1963. The happy couple lived and worked together firstly in David's screen door business which they started in the late 1960's.
In the early 1980's however, they moved to Little River to begin a nursery supply business. "I remember David saying to me if you can sell it, we'll do it! It was a successful business; I have always loved gardening and still love looking after my garden now. People often comment on my garden"
Throughout their working life, David and Judy had two children, first a little girl called Linda then a boy who they also called David, who gave the young couple so much joy and happiness, even now.
Once the children had moved out and had families of their own, Judy and David lived it up travelling around Australia in their caravan, visiting all the "big things". "The Big Banana, the Big Strawberry, the Big Pineapple…you name it, we've probably seen it" laughs Judy.
The couple continued to travel until David became terminally ill, leading to his tragic passing in the winter of 2011. Although Judy misses David dearly, life goes on.
For a 73 year old she is pretty groovy! She drives a jazzy bright red car, is very fit and cracks some of the most hilarious jokes I have ever heard. Not to mention she has a wonderful sense of fashion. She also knits teddy bears, little hats, booties and crochet blankets which she does up in beautiful packages to give to premature babies at the Royal Women's Hospital in Melbourne.
Judy is an inspiration to me. She has worked hard her entire life, and despite the loss of her husband David, she continues to live her life with energy, enthusiasm and is always thinking of others. Of course she gets sad about David at times, but she knows that "he wouldn't want us to be sad, he would want his family to keep on going and keep on living because life is too short. So that's what I'm doing" said Judy with a little smile.
To read more of Melissa's work visit http://melissahaber.wordpress.com/about/