Keith and Katrina Neal – Two World's Collide
Love, Love Stories | August 14, 2018
By Isabella Neal
"Hi. My name is Keith. Can I have this dance?". Who knew these ten simple words would spark the adventure of a lifetime?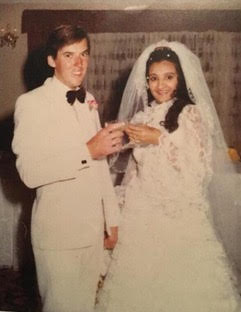 August 1980. Burleigh Heads State School. With music blaring and disco balls gleaming, a 19 -year-old competition-level dancer, by the name of Keith John Neal looks among the crowd of dancers, over towards a beautiful, 21-year-old Indian woman. As the dance instructor encourages everybody to pair up, Keith eagerly asked Katrina Adele Singh the very question which shaped their lives forever.
As Keith took Katrina's hand in his, they never looked back. A mere two years later, the couple are married, still dancing their way through life, with their first baby on the way. Fast forward 34 years, Katrina and Keith are still happily married with four beautiful daughters, and three gorgeous grandchildren, still dancing. However, their love story was cut far too short…
Both born and raised on the Gold Coast, Keith and Katrina "met in the middle". Although they were country people at heart, they lived on opposite ends of the Coast. Keith came from Southport, while Katrina came from Tugun. Meeting half-way was one of the best things that had happened to them, as it gave them the opportunity to connect over the mutual love of all things music. However, their story doesn't quite start there….
Keith's Uncle Ted, worked for the local telecommunications company on the Singh family farm in the 1950's alongside Katrina's father, Tom. After work, the two friends would bond over a beer and a good ol' yarn, while Katrina's mother, Zillah, worked at St. Hilda's Girls School. Little did she know, that Keith's mother, Beryl also worked there. Not only that, Katrina's twin sisters and Keith were born two weeks apart at the same hospital in 1961 and neither mother knew. You could say Katrina and Keith were "star-crossed lovers", due to the fact that their paths were destined to cross almost three decades later.
"We were meant to be together. We just knew", Katrina says.
Reflecting on the first time Katrina met Keith, she says:"I thought he was sweet, handsome, gentlemanly, polite and a little bit forward in a cheeky way."
"Dancing our first progressive dance to Sheena Easton's 'Morning Train', we were following each other's eyes around the dance floor. He had a broad, wide open smile; his eyes were big and shining. Keith would turn his head with every change of partner, looking around the dance floor, waiting for his turn to dance with me", Katrina says.
Keith was a determined, charming young man who always had a trick up his sleeve. Wanting to win Katrina's heart, he would often find a way to spend time with her.
"When he met me, he said he always liked brown skinned girls because there was just something about them that made him feel cared for and warmed his heart. He had loved Motown music too, especially Tina Turner, Diana Ross, Whitney Houston and Janet Jackson…He said he would marry a brown skinned girl one day…and he was determined it turn out to be me," Katrina says.
"Before he got his car licence he'd come to visit me at my house by bus and walk the steep hill. We were happy to stay home and go through our courting, 'getting to know each other days'. We would play cards or Chess and listen to music. We were family orientated people".
Keith proposed to Katrina along the banks of the beautiful Currumbin River, under a gum tree 12 months after their first meeting. Ironically, the same tree is still thriving today.
Fast forward 11 months to September 1982. On a beautiful spring afternoon, Katrina and Keith finally married with all their family and friends present… Their wedding rings engraved with the significant words 'forever and always'. From that day on, they once again embarked on a journey filled with love, laughter, happy times, sad times, music and above all, family.
They worked hard, loved hard, and were looking forward to expanding their family. Their love of music had continuously strengthened over the years, so much so, that they dedicated a song to each of their girls.
The couple introduced their first child, Cherish Melody-Ann the following July, 1983, with Lionel Richie's 'Endless Love'. At the time of her arrival, Keith worked for the local council. However, they still made time for dancing. After all, music was their life's theme…
A year or so later, Keith and Katrina welcomed their second daughter, Jasmine Rose in December 1984. By the time Jasmine came along, Motown music became particularly prominent in the Neal household, so it seemed rather fitting that the couple dedicated Stevie Wonder's 'I Just Called to Say I Love You'. As a family they often went to the country dances at the Gilston Hall in Gold Coast Hinterland.
The young family began taking road trips and little holidays. Of course, music was continuously played wherever they went. Playing their records on the weekends became a routine and they enjoyed attending concerts together.
"The girls would hum and sing along with the music we'd play. Sometimes, a fun song they'd sing was '99 Bottles of Beers on the Wall," Katrina reminisces.
Dancing slowed down after a while, both parents wanting to focus on raising their little family. But, that didn't stop them from loving music. If anything, they were more connected than ever before…
Heartbreak struck the family a few years later. Katrina and Keith tragically lost their stillborn daughter, Deanna Adele in February 1991. Wanting to dedicate a song to their precious baby, they fittingly chose 'Unchained Melody', a song that always seemed to come on the radio, whenever Deanna's name was mentioned. The loss of their beautiful baby changed their lives forever, and days, months and years afterwards, they would continuously hear 'Unchained Melody' playing on the radio. Big believers in signs from Heaven, Katrina and Keith trusted that Deanna would always find a way to reach out to them in times of sadness and sorrow. Alas, she had.
Katrina has always said that their "angel baby" knows when her Mummy and Daddy are missing her, so they take her song as a sign that she is missing them too. Not only that, they believed she was telling them something good was coming and hold on to hope…
Katrina would often play music when her girls and Keith went off to school and work. It gave her a chance to rest, recuperate and reconnect with the rest of the world.
Six years later in June 1997, Keith and Katrina's youngest daughter, Isabella Grace was born. Initially concerned for the welfare of their new arrival, the couple held on to that hope that she would be a happy and healthy baby. On the day of Isabella's birth, two songs played via the hospital radio, Bob Carlisle's 'Butterfly Kisses' and 'Alone' by the Bee Gees. These seemed particularly fitting for the tiny, premature baby, so they ultimately became her signature songs. When Isabella was a baby she would bounce and dance to Shania Twain – another artist Katrina would play when it was just the two of them.
"When Isabella was born, I continued to play Shania's music. Man I Feel like a Woman, was one song, as soon as tiny Isabella learnt to sit up by herself, would bop up and down to from the very first beat. Isabella grew up loving Shania also and in December our wish of seeing Shania Twain live is coming true when we attend her Brisbane concert,"says Katrina.
Passing on their knowledge and love of all things music during the last 21 years, now plays a deep and significant role in Isabella's life and it is all thanks to her parents.
Once again taking family road trips (blasting music from the car speakers) and attending concerts throughout the years since Isabella was born, had become a tradition in the Neal household. It was their way of bonding and creating new memories, something which has and will continue to be passed down on to future generations.
Life went on during the years, with highs and lows, and ups and downs, both Katrina and Keith looking forward to the foreseeable future ahead of them, but it was suddenly and very tragically cut far too short…
It was a normal morning in October 2016 as they were going about their day-to-day life, when life was turned on its head for Katrina and the rest of her family. Keith disastrously lost his life in devastating circumstances. Changing the lives of his loved ones forever, everyone knew it was far too soon for Keith to leave this Earth.
Ever since that awful day Keith passed away, he has found a way to reach Katrina and his daughters, of course, through music. Wanting to represent their life story at the moving funeral service, Katrina chose the song which made them come full circle – 'Can I Have This Dance?' by Anne Murray as the opener. Cherish, Jasmine and Isabella had each dedicated a song to their father that day – Faith Hill's 'There You'll Be', Jessica Mauboy's version of the famous 'Flame Trees', and 'One Sweet Day' by Mariah Carey.
"The first song reflects the first words Keith ever said to me, of which I've held in my heart always", says Katrina.
The girls also had a moving surprise in store at the end of the service – they had organised for a dove for release as Keith left the church.
That in itself, is another story…One of the very first records Keith purchased as a young boy, was 'The Little White Cloud That Cried' by Jamie Redfern. As the three daughters opened Iris, the little doves' cage, she refused to fly. After some coaxing, Iris still wouldn't leave. Instead, she stayed put in her beautiful, elegant cage, as Reba McEntire's 'Forever Love' played softly in the background.
"Forever Love reflects a gift he gave me on the first Christmas we met. It was a perfume bottle in the shape of a heart engraved with those exact words",
Keith and Katrina also loved the Bee Gees, and as the family went on to the following service, the final song that played out was 'Don't Forget to Remember Me'.
Katrina has believed every day since then, that it was Keith's way of telling the family he didn't want to leave. It was not his time.
"Iris was meek and gentle. She just didn't want to fly and leave us just as I believe Keith had no intention of leaving us, too", Katrina says.
Katrina still feels Keith surrounding her to this very day and it is all through song. It is amazing what the power of music can do. Even though he is no longer here in the physical sense, Keith still manages to touch Katrina's soul with songs from their beginnings, whether she is home or out and about, he finds a way to be with her, by telling her he loves and misses her with all his heart.
"Everywhere I go, I hear music. It meant so much to us both. I hear songs that literally stop me, freezing me in my steps and they just take my breath away. I can't breathe sometimes; I cry and have to walk away to a quiet place", Katrina says.
"It is his way of telling me he never wanted to leave me, but he is walking beside me every day. I never doubt he is with me. He keeps me safe and protected".
Music is a truly beautiful gift and it is true – it does bring people together… And they remain together forever and always.