Krystina Tasker- Inspirational Young People Series
Creative Folk, Young People | September 30, 2015
We have been on a quest to interview inspirational young people over the past few months. Third in our series we feature Krystina Tasker who is a 19-year-old actress from Perth. She has been named Australia's most promising actress of April 2015.
Growing up Krystina was introduced to the entertainment industry through her love of dance formed at the age of three. Since then with the support of her mother and grandparents she explored the world of acting.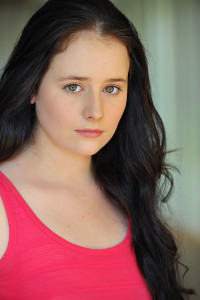 Kystina's first professional role was in 2005 at the Regal Theatre, in Subiaco, Perth playing the role of Young Eponine in Les Miserables. She had the opportunity to perform in front of hundreds of people every night.
In 2008 Kystina started high school at John Curtin College of the Arts in the Gifted and Talent Drama Program. She performed in classic plays such as The Taming of the Shrew, As Your Like It and A Streetcar Named Desire. While juggling schooling, homework and after school drama and dance classes she filmed a commercial for Sci-tech's new exhibition, a documentary re-enactment on Foster Housing for The Department of Child Protection, a short film called Scary Fairies and hundreds of competitive dance competitions.
While just turning 17, Krystina was given a scholarship to study in Los Angeles in a one-year Hybrid Conservatory for film and television. After graduating she packed her bags and moved to Los Angeles to pursue her dream. While studying full time, she jumped into the deep end and started her international career. She wrapped 2013 with a music video for band, Across Coves (Don't Leave Me Lonely Tonight) where she played the lead opposite American Olympic Gymnast, McKayla Maroney and the band's lead singer, Nicholas Podany from The CW's, Hart of Dixie. she also filmed the first season of a web series called, 50 Shades of Girls and a short film called Intrinsic.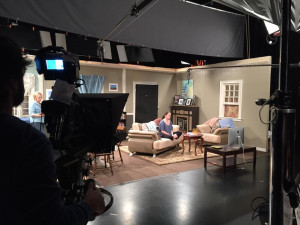 Returning back to Perth over the Christmas break because she missed home. Radio Fremantle interviewed Kystina about her international journey and advice for others. With the urge to go back to Los Angeles Krystina started 2014 starring as the lead in BuzzFeed's new Internet video called, "If You've Been Bullied, You're Not Alone". Due to the success of the video, she was chosen to be the face of the video, which was promoted on the front of Yahoo News next to celebrities such as Angelina Jolie. This project was very close to Kystina's heart, as she got the opportunity to tell American teens about her struggle with bullying in high school and offer students advice on what to do.
We chatted to Kystina about her passion about the entertainment world.
Tell me what gets you excited?
When someone gives me positive feedback on my acting. This could be from a director, teacher or a casting director.
There is a sense of accomplishment and reassurance that you're on the right track. It makes you push yourself harder and also jump up in the air and call all your family once you leave the room.
What advice would you give to a young person considering taking up acting?
Very few just walk Hollywood Blvd and get picked up by a casting director to be a series regular on a TV show.
Training is very important. Whether your 60 or 12, you should never stop training. It is precious time to work on your craft and explore characters and accents or maybe just keep your talent exercised.
It's one of those careers where you are all in 100 per-cent or you are not in at all. Because being half -way means your not committed to classes, characters, auditions and filming. No one wants someone who isn't fully committed. It's also very competitive and rejection is bound to happen but that's what makes you stronger and more confident.
If you could be any actress for a day who would you be and why?
Shailene Woodley. I think she is really clever and super talented. She's in one of my favourite movies, The Spectacular Now with Miles Teller. She's been working on a TV set since she was a teenager and she is educated and people admire her. She is also known for living a really healthy lifestyle and does not abide by anything against nature. I love living an active lifestyle and I would love to know her tricks and healthy living secrets.
If your life could have a theme song what would it be?
City Of Angels– 30 Seconds to Mars
More of a hardship and struggle feel of trying to make it in LA.
The idea that you get lost in the bright lights of the city while trying to survive and pursue your dream.
Best Day of My Life– American Authors
Very different to the first one. Celebrating a dream. Exactly what the title says, best day of my life.
Tell me who is an older person over the age of 60 that you admire and why?
My grandparents. They have been there for me through thick and thin and the fact that they are still in my life sharing all these special moments with me is a gift.
If you could turn back time, what era would you love to discover and why?
The Slight Period is definitely a time period I would love to transport into. I would love to be apart of a silent film and see how it all works. We all hear about what it's like, but is it actually really like.
Name three websites you would recommend to our readers.
Mine of course: www.krystinatasker.com
Backstage.com is definitely a site for articles/ reviews and advice on acting
Depending on where you live always be submitting yourself on audition yourself no matter if you have an agent. In this case Australian account would be, Casting Network Australia.
Name three accounts we should follow on Twitter.
Mine of course: www.twitter.com/krystinatasker
Anything else you would like to add?
I am very blessed.