Meet Adelle she helps people to look their absolute best!
Creative Folk, Entrepreneurs | May 9, 2018
We are on the quest to interview business owners over the age of 60. This week we head to Warner in Brisbane Australia and chat with Adelle O'Connor who is a beauty therapist, salon owner of Sasi Skin Spa and co- director of Skin at Bardon. 
Can you tell us a little about your business and what you do?
I am a beauty therapist, and Paramedical Skin Technician, which translates to "I take care of everyones appearance, to enable them to look and feel their absolute best". It is my sole purpose and my soul purpose.
What were some of the struggles you faced when you first started?
I bought my first of seven businesses in 1996, and while I had lectured in Business Management at the Beauty College that I taught at and managed, I really did not know what records to keep, or little idea about projections or financial management, so just worked as hard as I could and recorded every single thing I bought and sold, using a 14 column money book to try and forecast my expenses. I did not have enough working capital, so it was a juggling act for the first year.
What are some of the most important lessons you have learnt in life?
Everyone has a battle they are fighting, respect this. This applies to absolutely everyone I encounter in life, whether they be staff, clients, suppliers, cleaners, and even the person from the call centre that doesn't speak english well.
What motivates you to keep working after 60?
I tried retiring at 61, but as I am a single apartment dweller without a garden, young children or animals, there really wasn't a lot to keep me excited and interested on a daily basis; and I missed the joy and challenges of having my own beauty clinic.
I still have enough time to pursue interests like learning a language, writing, reading, brunches with friends and dabbling in a bit of painting. I believe we need to enjoy life every single day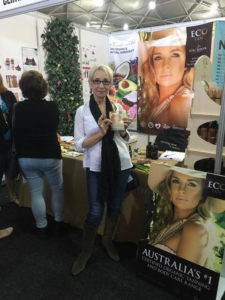 What do you like most about having your own business?
I love the freedom, the sense of achievement, the flexibility. I really enjoy opening a salon or acquiring an existing business; applying my methods and seeing them prosper. It has allowed me an inner city apartment, a convertible, overseas trips and a comfortable lifestyle.
What advice would you give to the younger generation?
Believe in yourself, and anything is possible. Own that you are successful in at least one thing, and be proud of that. Never ever ever give up.
If you could jump into a time machine what era would you visit and why?
If the choice is only to travel to the past, it would have to be the sixties. I loved the fashion and the music. Drugs were not prevelant. It was an uncomplicated and fun era, that was also relatively safe. Rather than go back, I would like to travel forward… I think the next era will be one of compassion for others, enlightenment and a greater awareness of the needs of others and our environment.
Anything else you would like to add?
I consider myself fortunate to be a single woman in business. I bought and sold several salons, up until 2007 when I sold an extremely successful salon, and tried retiring. After six months, I bought another, which I still own, that runs with minimal contact from myself. The salon I sold in 2007, came up for a "Take over lease" situation in 2016, and so a former staff member and I are now business partners in that business. I sometimes think of the alternative "sliding doors" of my life, and know I could never be employed by anyone. The long days, sleepless nights and uncertainty definitely exist, but are countered by the independence, financial and emotional rewards. I have been featured in the newspaper, on TV, in magazines and on radio, plus written a column and addressed sales people and women returning to business.. None of this would have happened without taking that first step of buying my first salon.