Meet Arbazz Nizami who started his own not-for-profit and business.
Creative Folk, Entrepreneurs | August 20, 2018
It all started with a goal to chat to entrepreneurs over 60. Then out of curiosity we decided to talk to entrepreneurs under 30. We believe these two very vast generations can learn and grow from each other.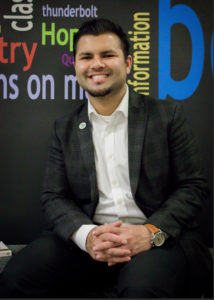 This week we chat to Arbazz Nizami who is co-founder of the Sahaba Initiative in California.
Can you tell us a little about your business and what you do?
I have an independent business called Arbazz Digital that contracts with small businesses, nonprofits and start-ups to provide them with digital marketing and web development services. My day to day tasks range anywhere from building websites from scratch for clients to developing their online marketing strategy all the way to managing their e-marketing lists and designing content. My business is catered to helping growing brands go to the next level in the online world.
What motivated you to start your own business?
I became motivated to start my own business because it allows me time to grow my nonprofit that I started in high school and to do many of the things I love doing. I've always been really interested in local community and global issues but never really wanted to make that my full-time career. My business affords the opportunity to fly overseas and attend an important conference on humanitarian or political issues but not have to take time off work because I can work remotely.
What were some of the struggles you faced when you first started?
The initial struggles I had was really trying to figure out what would be the best business model and what clients needed in the digital age. After working different jobs and spending time with clients I was able to understand what they need and what's best for them to growth. My second challenge was finding good clients when I first started my business I charged people extremely low rates and took almost anybody as a client and after several years of doing that I understand now that while a client is interviewing me I am doing the same to see if it's a good fit for my business.
What do you like most about having your own business?
What I like the most about having my business is the work life balance it affords me and the opportunity to work with a range of people and personalities across the globe.
What advice would you give to your younger self?
I'd probably tell my younger self to have gotten a second Bachelor's in Computer Science because I end up spending so much of my time learning new programming languages.
Who is an older person that you admire and why?
There are many people that I admire and its difficult to decide on one but I think Muhammad Ali definitely takes the cake. He has inspired me on so many different levels from socially, physically to spiritually. I think if my aspirations could even come a little closer to who he was I'd be content.
If you could jump into a time machine what era would you visit and why?
I'd definitely want to jump into the 1960s it was a great time of conflict, innovation, and excitement. Being around some of the great heroes of that era would be exhilarating. I also think many of the most important thinkers of that era inspired generations to come from people like Martin Luther King Jr all the way to Gandhi they have spoken decades after their passing.