Meet Clarissa Yates who founded a business as a creative outlet.
Creative Folk, Entrepreneurs | February 5, 2018
Today in our crafty series we meet Clarissa Yates who is the former owner of  Hooked in a box which is a business grown from the love of learning crochet from older generations.
After running Hooked in a Box for a little over a year, Clarissa was offered a PHD Scholarship to undertake research into new therapies for depression and anxiety.
One of  Clarissa's biggest struggles was her own battle with depression and anxiety. She founded Hooked in a Box as a means to find an outlet of creative expression after the birth of her second child.
While going through postpartum depression, Clarissa found that making gifts, crocheting and giving back to other Mums helped her cope and from there Hooked in a Box exploded.
Clarissa is now the founder of Soul Remedia which is an organic natural skincare business for mums and women.
Can you tell me a little bit about the older generation women who inspired you?
I was always inspired by the nature of older generation's use of time – older generations such as my grandmother and mother did everything from scratch. They sewed, made clothes, cooked, grew their own vegetables and so much more. Growing up, we were not wealthy and so my mother had to DIY a lot of things herself. I got inspired to want to make things and do things from scratch as there is a sense of satisfaction when you make something absolutely from scratch, especially for someone else.
What was it like developing a new skill like crochet?
It was hard at first but I was determined to not resort to learning it online or through Youtube as I wanted to learn it the way my grandmother did, from a book or from watching other older generation women doing it. I taught myself from a crochet book and repeated doing it repeatedly until I got it. I would watch older generation women do it, and learn the shortcuts from them.
How did you get into wood burning? Its quite an interesting skill to have.
I got into wood-burning as a way to make customised gift boxes for my business. But I have always wanted to learn how to do it. My childhood home was in a air base camp and I was surrounded and grew up with nature and tropical trees around me. I was always drawn to wood and all things natural. When I started sourcing for wood boxes to use as gift boxes for my business, I wanted to find a way to keep things natural and not use any harsh paints or chemicals to design/customise it. So I got into wood-burning as it is a natural way to design/customise boxes.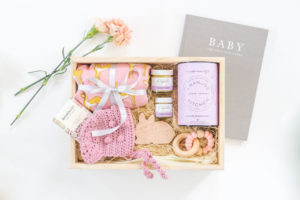 What are some important lessons that you have gained from listening from both your mother and your grandmother?
That patience is a virtue. And that the most priceless things, are thoughts from the heart. I learned to do many crafts, not only because I found it therapeutic to be creative, I found that learning to do a lot of crafts taught me a lot about patience. It is much easier and simpler to just buy it from a shop, but where's the fun in that? I also learned from them that you don't need to be rich and have all the money in the world to give a priceless gift. Being brought up poor, I learned to always appreciate what I have and give gifts of love.
Looking into the future what lessons would you like to pass on to your children?
I would love to pass on to my children to always peservere, even if we are going through difficult times, family will always be there. To respect your elders, as the older generation has so much wisdom. To be kind, and always give back. To give without expecting anything in return.
What do you like most about having your own business?
I love being my own boss and doing things creatively. I love not needing to be managed by people whom I have little respect for. I love not dealing with office politics. I especially love being able to work from home and spend time with my girls. I love the flexible work arrangements.
What are a few of your favorite DIY tips?
Buy plain/simple items from op-shops and up-cycle it.
Always use leftover fabric for small projects
Make your own food items to give away as gifts – store them in mason jars
Using simple paint tape, make geometric designs on your wall, and paint the shapes to get a unique geometric wall pattern
What advice would you give to those who want to pursue a creative career?
Be yourself: business world is hard enough, but when you are in a creative career, you are putting your own heart and soul out there and it can be chewed up. Don't try to be someone else you're not. Your tribe will find you.
Do not compare yourself to those who seem to have it all. You do not know their story and where they came from.
Give yourself grace, don't beat yourself up if you don't feel like you can come up with something original.
Stay true to your believes and vision. People will always want to test you and question you, but don't be swayed easily. Stick to your truths and people will respect you for that.
 If you could jump into a time machine what era would you visit and why?
1920s. The creative vibes from the 1920s seem to be roaring with the era's social, artistic and cultural were dynamic. It is also when Jazz music prospered. I also love the fashion and music from that era. It is also when there was a changing role for women, a period of social revolution and rise of feminism.
Anything else you would like to add?
Being creative has always been something I always enjoyed and find it very therapeutic. I am fortunate I get to do something I love in my business and stay home with my girls. I am always looking to modernise the older generation crafts.