Meet Heather Joy Bassett who sold her podiatry clinic to pursue speaking and mentoring.
Creative Folk, Entrepreneurs | July 30, 2018
We are on the quest to interview business owners over the age of 60. This week we visit Victoria Australia and chat with Heather Joy Bassett who has sold her podiatry clinic to pursue speaking and mentoring.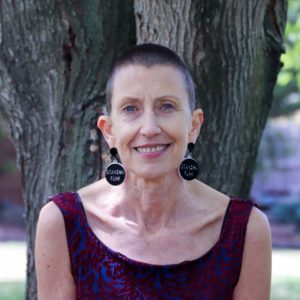 Can you tell me a little bit about your business and what you do?
I recently sold my passion, my Podiatry Clinic, after 35 years and eight months, Healing Feet With Heart and Soul,
I had the honour of serving clients and watching them grow from age four to 39 and 70 to 100 and helped them tread confidently into their future improving their quality of life, whilst  listening to their stories.
Now I share my wisdom through Speaking gigs, and I continue to mentor entrepreneurs to amplify their message. I have written two books, A Cosmically Juicy Life and SPRUTH – The Art Of Speaking The Truth, With Love And Compassion.
What motivates you to keep working after 60?
Life feels like it is just beginning. I have been to the highest of highs as a World Champion in Lacrosse and to the deep dark lows of depression, suicidal. I want to share stories and wisdom to help others. The Future Of Humanity is bright, together we can bring rapid healing, rather than the doomsday reports that are foisted on us by the media.
What do you like most about having your own business?
I love the flexibility and freedom to run my own race, to shift, change, learn, grow and evolve and see the difference I am making in the world.
What have been some of the struggles you have faced with running your own business?
Creating teams was difficult in the earlier years. I did not have enough knowledge and would try to make people that I liked, fit roles that were not right. Trying to do everything made life heavy and hard at times. I didn't understand boundaries and it sent me into some deep dark heavy times and the ripples affected everyone.
What are some of the most important lessons you have learnt in life?
Speaking The Truth, With Love and Compassion is incredibly important. Not doing so is a recipe for disaster. Learning and understanding how I work, what my character profiles are, helped me understand me and then I was able to understand others, making it easier to communicate. Living a lie, crushes our soul, shatters our heart and life becomes much harder than it need be.
Creating space for people to SPRUTH – Speak their truth, with love and compassion, to know and express their emotions and feelings, creates grace, flow and ease into our life, love and legacy.
What advice would you give to the younger generation?
Know that it is ok not to have the answers. That you are perfectly you and try not to get caught up in other's expectations of what you should be. Asking questions of your-self is normal. You may at times feel broken, as do most of us at times. Know that while you feel it to be true, it is not. Life is one of abundance and gratitude helps it flow. There are no such things as negative emotions. Being human means that we have dark times as well as light times and that is all normal. You are never alone in what you are feeling, expressing feelings safely is healthy. Sadness, anger, fear and joy are normal, neutral feelings.
If you could jump into a time machine what era would you visit and why?
I would pop back in time and talk to my grandma, share my journey and thank her for all the wisdom she instilled in me as a child and let her know how important she was, how much I admired and respected her and tell her how extraordinary she was, and how crazy it is that I have paid thousands of dollars to grow and evolve and remember what she taught me.