Meet Tina she is passionate about work spaces.
Creative Folk, Entrepreneurs | May 14, 2018
It all started with a goal to chat to entrepreneurs over 60. Then out of curiosity we decided to talk to entrepreneurs under 30. We believe these two very vast generations can learn and grow from each other.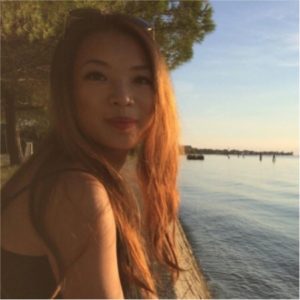 This week we visit London and chat with Tina Chou who is co-founder at Ellyot.
Can you tell us a little about your business and what you do?
Ellyot is a on-line platform to discover, book and network across amazing work-spaces. We believe in a world where the working population is empowered to choose to work in spaces they love, with the people they love the most.
We encourage workers:
to break free from the conventional office and grind of daily life, to work in interesting and extraordinary places.
to be free from the bounds of convention and to work with like-minded people, to create new collaborations and spark new ideas.

We believe in defying our constraints and journeying beyond the limits, being fearless, courageous and innovative. Ellyot embodies that, by empowering people to break beyond four walls and work the way they want.
 What motivated you to start your own business?
Our CEO Dario Pandolfo used to be involved in a PHD program which studied the EU labour market. One of the key insights was the identification of this gap in the labour market – flexible work-spaces and the movement of smart-working. This is largely driven by the ever-growing technological landscape, which allows us to work remotely, anywhere, anytime with anyone.
We see a world that lives for their next holiday, lives for the weekend. Our working lives take up more than 70 percent of our time – its time for us to start enjoying living itself, rather than dreading that nine to five. Our core purpose is to drive forward a movement that we personally believe in – empowerment of the workers by way of providing a platform to facilitate in changing ways of working.
What were some of the struggles you faced when you first started?
On a start-up level, one of the biggest challenges is keeping up with a fast-paced market. We need to be constantly identifying competition and opportunities with limited resources. The key to this is to be forward-thinking visionaries and make sure we are at the forefront of the curve.
In terms of our sector operating in work-spaces, although the growth of remote-working and smart-working is massively on the rise, there is still a huge job of educating the general working population as well as big corporations that there's a need to move away from management by presence to management by outcome. Most companies think the two go hand-in-hand together, however that is wrong. To provide that choice to your team that they are not chained to their nine to five desk, is to empower and to bestow a sense of respect in your staff.
What are some of the most important lessons you have learned in life?
Failure is good – keep failing and keep learning
Be open and kind – talk to people, be the initiator and grow your circle
Talk about ideas, not about people – this is the only way you'll grow your intellect
What do you like most about having your own business?
Freedom is one of the greatest things about having your own business, the ability to make your own decisions and create an atmosphere and culture that you personally believe in. At a typical nine to  five job, you lose some autonomy and have to conform, but when you run your own business, it's completely the opposite.
I've found my work gives you so much more satisfaction. We want to revolutionise the workspace, and very few jobs can give you the level of satisfaction that you get from trying to change the world in your own way.
What advice would you give to your younger self?
I would say to be grounded, honest to myself and less naïve. I think the saying 'hope for the best but expect the worse' is the perfect phrase. I would tell myself that while working with an optimistic vision is important to help you drive forward, there is the possibility of failure, but it doesn't mean you have failed. Understanding that learning from failure if it happens, and it will, is better than trying to press on with an ignorance on that possibility.
 Who is an older person that you admire and why?
Hayao Miyazaki, he is a Japanese film director, producer, screenwriter, animator, author, and manga artist. He is one of the founders of Studio Ghibli and is also one of the best story-tellers of all time. The films and animations he produced throughout his life managed to touch people's souls. I think it's his unique-ness in telling subtle stories through animation, it leaves room for the viewers to interpret – his films are so captivating that viewers become passengers to character's lives and allows us to learn or remind us of important lessons and human truths.
If you could jump into a time machine what era would you visit and why?
The 1960's would have been a great era to visit if I had a time machine. London at the time saw a huge cultural and social change with bands like the Beatles changing music and artists like Andy Warhol revolutionising art.
Old industries began to shift, we saw a change from industrial companies being dominant to new technology firms popping up, and changing the way people lived and worked. Attitudes began to soften and we saw a huge change in that period in social, political and economic terms.
The 60's are always seen as an embodiment of great change, excitement and most importantly of hope for the future.