Meet Tom he founded a luxury hiking and bespoke adventure business.
Creative Folk, Entrepreneurs | September 17, 2018
It all started with a goal to chat to entrepreneurs over 60. Then out of curiosity we decided to talk to entrepreneurs under 30. We believe these two very vast generations can learn and grow from each other.
This week we chat to Tom Allwright who founded Adventure Abroad specialists in luxury hiking and bespoke adventures to the most scenic and unique places in the world.
Can you tell us a little about your business and what you do?
In everything we do, we believe in challenging the status quo and thinking differently. We do this by providing premium adventure experiences and harnessing our human relationships to provide VIP access, superior accommodation and exclusive insights. We take you places and provide life changing experiences that others can't. Adventure Abroad are specialists in luxury hiking and bespoke adventures to the most scenic and unique places in the world.
What were some of the struggles you faced when you first started?
For me it was getting people to trust who we are and why we do it, because they hadn't heard of us. Once we started to align ourselves and get some big named partners, then people started to pay a bit more attention to what we were doing and trust what we were saying.
What do you like most about having your own business?
Apart from doing something I am passionate about and being able to make a positive influence, we have set Adventure Abroad using a remote model similar to Mountain Bikes Direct. We have organically grown our team and all work remotely across the world. It allows us greater flexibility and more reach to our clients. So long as the work is being done and our goals are being met, then I have no problem with what they do the rest of the time. It's amazing the amount of work and productivity people can get done when they don't have a strict working schedule.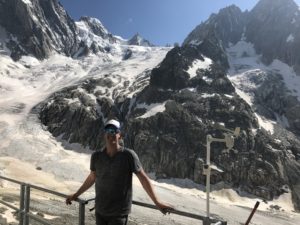 What advice would you give to your younger self?
I wish that I stepped out of my comfort zone and exposed myself to failure more. In the beginning, I would take it personally when someone rejected my idea or did not want to partner with a project, I never understood why! I've now got through that stage, but it was a bumpy little ride.
Who is an older person that you admire and why?
I have been lucky to have many mentors along my journey. Someone I really admire is Alan Mitchell, from Mitchell Partners. He took me under his wing when I started in business and I never hesitate to bounce thoughts. He looked after me a lot!
If you could jump into a time machine what era would you visit and why?
I would love to actually move forward in time. I can't help but wonder how far the travel industry is actually going to go. What lengths are people going to go to, to have unique experiences? Flying is becoming such a normal part of our lives now, when it was once held in regard for those who could only afford it. I just think there are some amazing people out there, with ambitious and entrepreneurial minds that the things we'll be doing in 50 years time is nothing like we are doing now.
Anything else you would like to add?
I use to play AFL for Geelong Cats and lived a great life living my dream. If I was to dream again, then it would be the life I am currently living. Running my own business allows me to focus on the things I love doing and the tasks which are my strengths, and I love giving other people those same opportunities.