My Neighbour Nessie
Culture, Inspirational People | November 26, 2013
By Sophie Lishman
At the age of four my parents packed our life into just two moving vans in hopes of starting a new chapter in the leafy suburb of Sandringham- a suburb just a walk from the sandy beaches where children played on corners until the dusk brought with it outdoor barbeques and bedtime stories.
My parents thought it fitting to introduce their only child to the joys of living in a neighbourhood full of children. Unfortunately or perhaps fortunately, instead of young playmates I found myself surrounded by several heartfelt seniors, or as I called them, my "grandparents".
For me the joys of running across the street to my neighbour Nessie's home every day after school to sit perched on a kitchen stool and recount all the events of the day, is still engrained in my memory.
Nearly two decades later I find myself sitting down with Nessie Hill again, who now resides across from the beach only a few streets away.
I am now a twenty- two year -old student and Nessie, a 94 year old woman who still captivates me as we sit down for tea and a biscuit- just like old times.
"Every day around four we expected to hear you bursting through the door, you and I would have our fruit cordial whilst Noel had his beer."
Nessie fondly retells our years of memories, laughing as she once again settles into a seat at the kitchen table and produces a plate of cookies and fruit toast she prepared earlier in the day.
Moving the short distance from Black Rock to Sandringham in 1952, Nessie and her childhood love, Noel, brought with them their first baby, Barbara.
Nessie recalls at that time many people were buying land in the bayside areas.
"At that stage lots of houses were holiday homes for the city people, but these were eventually demolished."
"Noel, my late husband, designed the house and built most of it himself!" Nessie proudly adds when asked about the architecture of their home, which is now one of the only older homes left in our street.
"It had taken some time to build our home, materials were scarce, that suited Noel as he only had weekends to work on the house. No car – only a bike for transport,"
"I remember him leaving the flat in Black Rock with various tools attached in some way to either the bike or himself. I would follow later in the day pushing the pram with our young one inside,"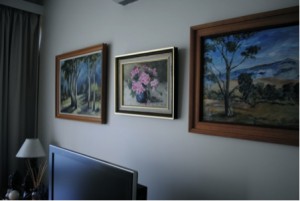 "The street was lovely, we were a mixed group who in spite of our differences got on amicably. By the time the street started to become lively we had three children- as did the people next door – and they were good company with each other,"
"Over the years though most of the other residents deceased or left for other areas, leaving us as the second-longest residents,"
"Houses were gradually upgraded or new ones built on the empty allotments so there were lots of changes taking place, one of the biggest being the road was built,"
"The path in our driveway had to be adjusted and in breaking up the concrete Noel accidently broke his toe! When we went to the Doctor he was told in a matter of fact way it would right itself, however the Doctor was more interested in the alterations as he lived in Darcy Ave and would face the same situation when the street was built,"
"We still think it was a nice place to live, not too far from the beach and also had the advantage of a green belt at our back fence which was a wonderful area for all of the children of the street to play."
Just two weeks away from her ninety-fifth birthday Nessie balances her life around weekly writing classes and strength training to keep fit and healthy. Having moved to a self-contained apartment complex surrounded by other independent seniors she laughs when telling me she is the eldest resident.
"It seems to be wherever I go now I am the oldest of the bunch!"
Putting it down to growing up on an Orchard farm with a diet of fresh produce and dairy, Nessie says that she has always made sure to bring up her own children with the same healthy lifestyle.
"I have my days when I feel tired and don't want to get out of bed but I feel so grateful and lucky to have lived such a long and colorful life."