My reflection on interning with Celebrate Living History
Creative Folk | February 1, 2023
By Cheuk Hei Ng
Working as an intern under Celebrate Living History has been a very fruitful and enjoyable experience for me as a journalism student at Griffith University.
The experiences provided me with a platform and way to improve and enhance my writing skills and techniques and allowed me to gain a lot of insights after conducting interviews with various talents and knowing about their stories and life experiences personally.
I had listened to and documented memories and stories from the life of seniors, and I personally feel the connection involved between me as a person from a younger generation and with people from older generations.
The experiences had allowed me to broaden my horizon in terms of viewing the world and life experiences in a bigger picture and wiser perspective as by listening to the stories of older generations, I realised that my life had been considered "easier" in a personal perspective compared with people from the past although it is important to acknowledge different generations may encounter different forms of hardships and difficulties and it varies a lot in terms of social class, background in different individuals.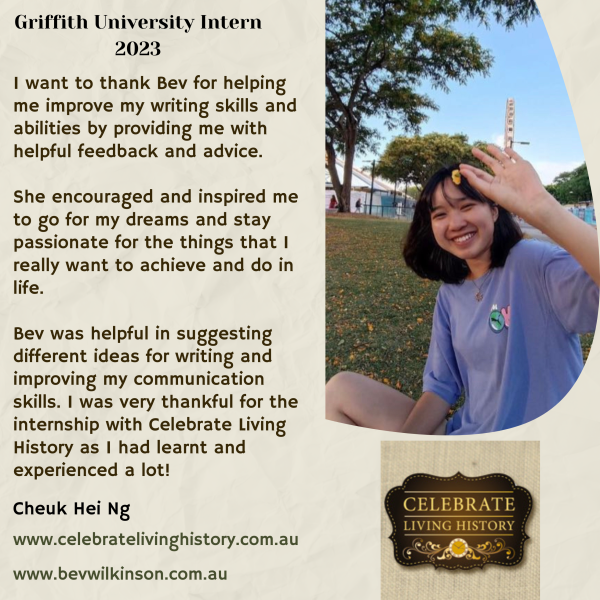 But from a personal point of view, I realised how lucky I was compared to the talents that I had interviewed.
I am also currently living in Australia as I am an international student, which at first it was hard for me to adapt to a whole new lifestyle and living in a foreign country.
But as two of my stories and interviews were based on two immigrants from Hong Kong, I can imagine how hard it would be for them to start a new life in Australia back in the 80s.
The technologies and media were less developed in the 80s compared to nowadays, therefore it is considered a major hardship for immigrants to communicate with families and friends back from their home country.
When I first came to Australia to study in high school, I felt extremely emotionally burdened and homesick due to having the need to adapt to the lifestyle, education, people, language barriers, and new environment.
I felt extremely stressed and depressed for a while, but luckily as time passes, I was able to fully immerse myself into the new community, having been able to make new friends and participate in activities, and learn about the Australian culture.
But speaking frankly, I may have encountered more hardships if I was born in the eighties or earlier. One of the interviews really stood out for me, which is Joyce's story that I had written. "It depends on your attitude when approaching hardships in life," says Joyce. This was a very valuable insight that I gained throughout my internship experiences.
By listening to her story, I learned that although life isn't always going to be happy and smooth as we idealized, we may encounter a lot of up and downs in life and we may feel frustrated and defeated, but it is essential for us to retain a positive attitude and outlook in order to overcome hardships and solve problems.
As Joyce told me she had to restart another career when she arrived in Australia instead of having her stable and successful career back in Hong Kong, I am deeply inspired by her boldness, toughness, and positive outlook in life.
My religion had also given me a lot of strengths in terms of overcoming challenges, and emotional burdens like homesickness and loneliness in Australia.
I am a Christian and it was unexpected for me to be invited to attend church in Australia when I was encountering a huge amount of stress and when I was emotionally vulnerable.
I was feeling lonely and defeated as I struggled to find a part-time job last year, but with the emotional support that the church community had provided me, I was able to be healed emotionally and improved my overall mental health and well-being.
Luckily, I was also able to find a part-time job in Australia after some struggles. Without the help of God and the church, I don't think I would be able to overcome those struggles emotionally and mentally.
I was thankful to everything and everyone that I encountered throughout the journey. I remembered in one of my interviews with pastor Daryl, he told me that God loves and adores me no matter what. Although I was a bit traumatized by past struggles and events, I was able to strengthen my faith in God and build meaningful bonds and connections with people throughout those struggles.
Throughout the whole internship experience, I really want to thank Bev for helping me in terms of improving my writing skills and abilities by providing me with really helpful feedback and advice, also encouraging and inspiring me to go for my dreams and stay passionate for the things that I really want to achieve and do in life.
Bev was very encouraging and helpful in terms of suggesting different ideas for writing and improving my communication skills. I was very thankful for the experience and internship in Celebrate Living History as I had learned and experienced a lot!