Rai and Bimla
Love, Relationships | November 26, 2013
By Elise Cook
Rai and Bimla have had a long, successful marriage, raising a family of three sons in Australia, and describe themselves as being more in love than ever. Their story of commitment, hard work, and a growing love, is inspiring. They believe their forty years of marriage, which is intact and still growing, is a testament to the fact that if you stick together in difficult times, you can grow to enjoy life together in old age. In fact, Rai says that love came into their relationship long after the wedding.
That's because, when Rai and Bimla met for the first time, they were already married.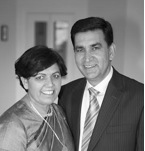 "My Mum just told me, 'You're getting married'," Bimla shares, "I was excited but I didn't really know what it meant".
At the ages of 17 and 16, Rai and Bimla's parents began talking and decided that since two of their children were getting married, it would be a good idea to marry the younger two at the same time. Living in villages in a Northern province of India, arranged marriages were common, but even so, Rai and Bimla remember feeling very young and not quite ready.
"We were married earlier than what we might have wanted to. We weren't really ready for marriage, but it was imposed on us so that was difficult," says Rai. "We were very young."
Living surrounded by family in a close-knit community, Rai and Bimla weren't able to spend much time alone together, which made getting to know each other difficult. When Rai left to study overseas in Australia, young Bimla was left living with Rai's family and remembers it as a very difficult time. "I was the last one to eat and the last one to sleep, I worked as hard as I could to avoid making anything more difficult," Bimla says. "When I fell pregnant, I was too scared and shy to tell anyone, so I waited until I was three months and had no choice." But, Bimla never complained about a thing.
It wasn't until they moved to Australia together, with their three small sons, that they were able to really come together in their relationship and unite. "Moving to Australia was life changing," Rai shares. "It was our first opportunity to be together in a truly intimate manner, and from that point onwards our appreciation for each other grew, which became love, and that love is growing more rapidly than ever now."
It wasn't just their relationship that benefited from the move to Australia, Rai and Bimla raised their sons and saw all three of them through school and university. "The fact that the boys have been able to make the most of all of the opportunities given to them, establishing themselves with good jobs and happy marriages here in Australia has been one of our greatest achievements. We have grown as a family so that we now feel a part of society and are no longer our own little enclave," says Rai.
Reflecting on their marriage, Rai and Bimla are aware that their experience is very different. "With most couples, romantic passions drive them to be together. For us, that came later," Rai explains. "When you have an arranged marriage, you go through a phase of trying to get to know each other and that takes time. As you mature in your relationship, the intensity of love comes through. Now that our children have left home, we are able to enjoy each other, its our time. We are now experiencing love in a much more intense and passionate way."
When asked what it takes to create a strong marriage, Rai and Bimla agree that first and foremost, marriage cannot be a selfish journey. "It is about sacrifice," says Rai. "You need to put your partner first. And later the focus is on the family. It can not be self-centered, and it is not an individual thing. Bimla's well-being always comes first."
Now, there is nothing Rai and Bimla like more than spending time together in their home, or with their two grandchildren. "The pace of our love is growing even faster everyday," Rai conclude
To view more of Elise's work visit