Talking to crafty folks with Marion Wheatland
Creative Folk, Entrepreneurs | December 18, 2017
Our founder Bev Wilkinson is chatting to super crafty business folks who are inspired by skills honed by their grandparents.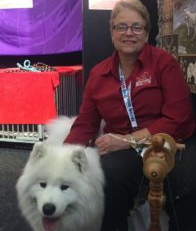 Today we feature Marion Wheatland who is the owner of Spinning Pets Yarn.
Creative people who spin will turn their wheel to any kind of fibre, so when May asked me to spin her poodle Mango, I jumped at the challenge, which opened up a whole new chapter in my spinning career.
What do you like most about spinning yarn?
Spinning is meditative and relaxing, very much akin to quiet rocking in a rocking chair.
What is one of the most unusual garments that you have made?
At the moment, I am working on a vest for one of my clients made from spun German Shepherd.
I think that is pretty special taking into account the history of the dog.
Who inspired you to pursue your passion for making these unique garments?
May and her dog Mango were my first clients, and my girlfriend Rosalinda gave me some fur from her Samoyed.
There are 200 dog breeds and thankfully, not all of them have long, spinnable fur!
What advice would you give to those who want to pursue a creative career?
Make your Passion live and use it to help others. There will be someone who will benefit from your knowledge and skill.
If you could jump into a time machine what era would you visit and why?
I would love to live as a pioneer. My love of history was nurtured by my Dad (a soldier and then a school teacher who had passion for history and passed it on to me). I believe it would be a hard but very satisfying life.
What advice would you give to the younger generation?
Whatever challenge you have, make sure that you know how to work from first principles, everyone needs to know more than one way to do something, to think sideways.
The most popular way or the most usual way may not be the way to do it this time.
Anything else you would like to add?
I have three types of client: one with a living pet, one with a deceased pet (the owner has saved the fur in the hope of using it one day) and one who does not know what kind of pet they want (so show me the fur). It gives me great pleasure to be able to help each one love and honour their pet and I feel very honoured to be trusted with such precious memories, to make the best possible product.