The Beamish Boys- Inspirational Young People Series
Creative Folk, Young People | August 3, 2015
We have been on the quest to interview inspirational young people over the past few months.
Second in our series we feature the Beamish Boys who are a musical duo from Brisbane.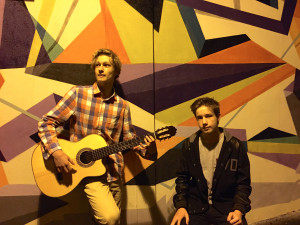 Starring 18-year-old Ben who is a first year university student at QUT and his 16-year-old brother Jeremy this duo has performed together at many different functions and charity events. And just recently they have been working with major advertising agencies such as BCM on TV and internet commercials. They have just finished writing the soundtrack for the 2018 Commonwealth Games sizzler reel.
In addition to this, they have worked with up-and-coming Youtubers and internet celebrities of  their  generation – they have written personalized theme-songs for Youtubers like Frenchy, Lewis Spears and Jimi Jackson.
Check out the Beamish Boys Facebook page here
and the Beamish Boys  website –  www.nextgenerationmusic.com.au  
We chatted to Ben about the inspiration behind their music.
Tell me what gets you excited?
The future, and the prospect of sharing our music with more and
more people every day! We're always excited when we begin a
new project, whether its large or small, and are constantly looking
for new and unique ways of sharing our musical enthusiasm with
the world around us.
What inspired you to start the Beamish Boys?
We've both been performing and playing music from a very young
age, and as brothers, it was really only a matter of time before we
teamed up and began playing together. This happened a couple of
years ago for a school performance, and we've been collaborating
ever since!
Who are your musical influences?
Lorde, Chet Faker, Imagine Dragons, Boyce Avenue and
Pentatonix are definitely up there.
If your band could have a theme song what would it be?
If we were to write a theme song for The Beamish Boys, it would
have to be something upbeat, energetic and of course fun!
Something that tells people we don't take ourselves too seriously,
but at the same time communicates the passion we have for what
we do.
What are you working on right now and what are you most
excited about in the next three months?
We're currently working on a couple of original songs, and some
new tracks for advertising agencies. The next 3 months are going
to be really exciting as we'll be promoting these new songs, whilst
continuing to write for advertising agencies and upload new
content to our Facebook page and website.
Tell me who is an older person over the age of 60 that you
admire and why?
Bob Dylan would definitely be number one, simply because he's
such an iconic song writer with great charisma. Also Hans Zimmer.
Even though he's still a few years off 60, he's still one of the most
admirable and accomplished artists within the film industry, who's
written some amazing film scores for hollywood cinema.
If you could turn back time, what era would you love to
discover and why?
The roaring 20s. It would be incredible to witness the birth of Jazz
and to be a part of the euphoric thrill that's become iconic to those
golden years.
Name three websites you would recommend to our readers.
http://thecommongood.org.au/ – This is a charity that we got
involved in this year and wrote a song for the cause.
http://www.gc2018.com/ – The 2018 commonwealth games site…
again, it was great to write the music for this one, and mix with
some of the inspirational people behind the cause.
https://www.musicianswithoutborders.org/ – an organisation which
aims to connect communities and promote peace through the
power of music.
Name three accounts we should follow on Twitter.
If we had a twitter account we would probably encourage you to all
check out that! But we're don't, and because we're not really a part
of the twitter sphere we wouldn't have a clue where to begin with
suggestions!