This is my home Australia
Culture | November 30, 2022
By Cheuk Hei, Ng
It was the month of January of 1986 when Susanna first came to Brisbane, Australia for a new fresh start of her life, leaving everything behind, including her friends and job in Hong Kong.
"The main reason that I came to Australia is because of my family. The main purpose of coming here was for family reunion, as my mother, sisters and brothers were living here," says Susanna.
It had been 36 years since Susanna immigrated to live in Australia. It was a brand-new adventure for Susanna, as she had been hesitant to come to Australia.
"I was not sure if I want to live here in Australia at first as I was hesitating. But I was young at that time and I wanted to try living here and my family were living here in the first place," she says.
Susanna's visa application was a success, she says that it is definitely god's plan for her at that time.
But as soon as she arrived in Brisbane, her impression of the city had been a surprise for her.
With a big smile on her face Susana says it was like going for a trip in the country side.
Brisbane city was still considered a developing city in the eighties. Compared to Susanna's country of origin in Hong Kong, which was considered one of the busiest and well-developed cities for international trading at the time, she was having trouble getting used to living in Brisbane city.
Susanna was enrolled in an immigration course for culture and language learning of Australia after she had arrived in Brisbane, while her husband was enrolled in university, majoring in accounting.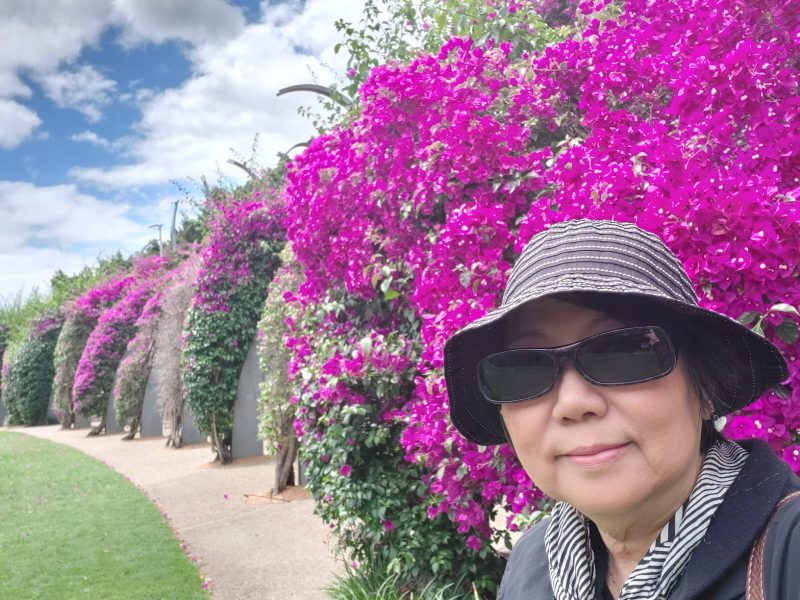 "It had been a source of struggle as I had encountered cultural and language differences when I first came here to Australia, my kids were also having trouble adapting to English learning environments in schools," says Susanna.
Susanna used to hire domestic helper for housekeeping in Hong Kong, which she found it harder when it was not considered an option living in Australia.
"I need to do everything myself as we couldn't hire any domestic helper here in Australia, I needed to be independent and it was a difficulty for my situation at that time," she says.
Luckily, she was able to find a job in Australia after three months, working as a team member in the Hong Kong Bank located in Brisbane. She used to work as a member of the bank back in Hong Kong and it had been easier for her to be transferred to a position in Brisbane.
However, she says that the IT technology of the bank was not considered as advanced as those in Hong Kong, therefore she found it a bit challenging to adapt into her new job. Despite the struggles and hardships Susanna had encountered, she and her family managed to adapt to a new way of living in Australia after a few months period.
"Although it was a bit hard when I was trying to adapt to everything in a new country, I somehow found happiness and a sense of accomplishment from my career and the loving support that the church had provided me and my family with. I am very grateful for that," says Susanna.
Her career had been one of her greatest accomplishments through her life in Australia, which she had received numerous promotions throughout her years of working in the bank.
"I was working as the supervisor of the Hong Kong Bank at first, but the bank was closed down after some time, which I felt a bit depressed and resentful due to the loss of my position. But then when I started working in my new position in Westpac, everyone in the team were very nice and helpful and I had received a few job promotions throughout my career,"she says.
One of the main reasons for her success and job promotion was due to her bilingual language skills, having been able to speak both English and Chinese at the same time in terms of working with Chinese customers.
There was a boost in the number of immigrants in the 90s, which there were an increase in immigrants from China, Taiwan and Hong Kong to Australia. This had been beneficial to Susanna's career as she was skilled at communications in both Chinese and English, which had earned her with a great amount of trust from her boss, managers and colleagues in regards to her helpful abilities.
"I was first being promoted to the position of manager assistant, and was then promoted to the manager of Asian business, and lastly being promoted to the position of relationship manager. I was feeling very accomplished and happy due to my job promotions," says Susanna.
"It was all God's plan. I am very grateful for the support provided by the church," says Susanna.
Susanna is now a committee member of a senior group of Sunny Bank's Baptist Church. Throughout her years of immigrating to Australia with her family, facing hardships and distress from adapting to a new country and way of living, the church had become a significant source of support for Susanna and her family.
"I participated in teaching Chinese at church and I found a source of happiness and support offered by the church and everyone from the church's community, I feel very grateful for what God had done for me and my family." says Susanna. Susanna is feeling very happy with her choice and does not have a single regret coming to live in Australia.
Despite the challenges Susanna had faced and struggled, she somehow found great happiness, achievements in her career and found a loving church community that had supported her throughout the years. "This is my home, Australia," she says.