Welcome Celebrate Living History interns!
Creative Folk, Interns | October 5, 2013
Its very exciting to have interns from Swinburne University and Griffith University on board, let me present our wonderful Junior Star Reporters!
Melissa Haber 
Hello everyone! My name is Melissa Haber and I am studying journalism at Swinburne University. I have enjoyed writing for as long as I can remember and thought journalism would be the perfect way for me to turn this passion into a profession.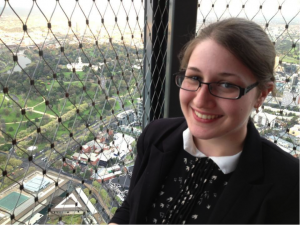 Last year I began writing for a community newspaper and seeing my name in print for the first time was an amazing experience. It was at that moment I realised that writing was definitely the direction I wanted my life to take.
When I came across Celebrate Living History, I knew I wanted to be a part of it. Founder Bev Wilkinson recognised that seniors have many interesting stories to tell and that they should be shared with the world.
I am thrilled to be involved in such a wonderful project and I hope it will change the way people view the senior citizens in our community.
Trine Tessem Moerkeset 
My name is Trine Tessem Moerkeset, I am a 23 year old student at Griffith University in Queensland. I am studying Public Relations and media communications and graduate with my Bachelor in Communications this semester.
I am from a small town in Norway called Aalesund where I lived all my life before moving to the Gold Coast. I wanted to intern at Celebrate Living History because as I was growing up I always enjoyed listening to my grandparents reminisce about their past.
I have also in time learned how important it is for younger people to take a little time and listen and learn from our seniors. As I get older I realise how much there is to learn from them and their experiences. I think the Celebrate Living History project is beneficial to both the juniors and seniors. Sharing stories that may never have been told is very important in my view.
It would be a shame for me not to know what my grandparents experienced during a time very different then ours, and by celebrating their history I can do the same in the future.